How to choose and use child Shin Pads?
If you're reading this article, it's not by chance. You're the parent of a young soccer player, and concerned about the risks of injuries, you're wondering about the usefulness of child shin pads.
In this article, we will explain why you should equip your child, how to choose soccer shin pads, and how to use them.
The importance of shin pads in soccer
Soccer is a contact sport, and as you've probably noticed, the intensity of the matches is constantly increasing.
On the field, there's more commitment, more duels, and consequently, more frequent injuries.
The shins are, of course, the most exposed parts of the body.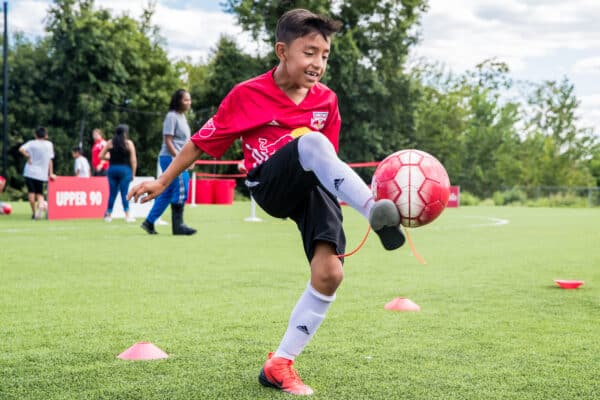 The website of the "National Center for Biotechnology Information" (an organization within the U.S. National Library of Medicine) publishes a very interesting study on this subject. It's titled: "Tibial shaft fractures in football players."
Researchers examined tibia fractures in the United Kingdom.
They analyzed all tibia fractures in a university hospital over a 5-year period (from 1997 to 2001).
Here are the results: in 9.8% of the cases treated, the injury was related to playing soccer. In this study, the researchers also highlight a decrease in this injury since FIFA made shin guards mandatory (in 1990).
Another study on the same site, titled "The Effectiveness of Shin Pads Used by Football Players," assesses the effectiveness of soccer shin guards.
According to this survey: "Lower limb fractures represent 30 to 33% of all fractures in soccer," while also specifying that "shin pads absorb impacts and aid in energy dissipation, thus reducing the risk of serious injuries."
In short, as you've understood, you should protect your child's shins if you want them to continue to thrive in their favorite sport.
You might be wondering, "Alright, but how do I choose them?"
The following lines will serve as your guide for an informed choice.
How to choose suitable soccer shin pads ?
For optimal performance, you must find a balance between protection and comfort, meaning the durability, fit, and weight of the shin pads.
This decision depends on several factors.
Shin pads size
Naturally, they should be tailored to your child's size and the length of their shins. Too small, and the protection won't be comprehensive. Too large, and they might cause falls. Next, ask yourself these questions: do you want to protect only the shins? Or also the ankle (and the malleolus)?
For shins only, simple models with Velcro straps work well. Models with sleeves offer better support. Note that simple child shin guards offer more freedom of movement.
For shin-ankle protection, choose a model with an integrated ankle guard. This provides optimal protection but may sacrifice some comfort.
Here's a useful reference:
If your child is under 9 years old, go for size XS (perfect for children up to 1.40 meters).
If your child is between 10 and 13 years old, consider size S (ideal for children measuring between 1.40 meters and 1.60 meters).
If your child is taller (up to 1.75 meters) and older, purchase a size M model.
Material of shin pads
There are 5 design options:
Carbon fiber: The top choice, offering lightness and strength.
Fiberglass: Very flexible but slightly bulky.
Polyurethane: Sturdy and rigid.
Rubber foam: Extremely lightweight but with limited protection.
Plastic: Effective for low-intensity impacts.
How to position child shin pads correctly?
This equipment isn't particularly difficult to put on. It can be placed and adjusted on the legs quite easily. The key is to ensure they stay in place so that no area is exposed to impacts. To use them, follow these 6 steps:
1. Slide them on or position them on your child's shins.
2. Center them to protect the area from the ankle to just below the knee.
3. Ensure they don't slip to the sides.
4. Secure them with Velcro straps or straps, aiming for a snug fit without cutting off blood circulation.
5. Put on socks to cover them entirely.
6. Have your child put on their soccer shoes.
Please note that socks also play a role in keeping child shin pads in place.
However, avoid any direct contact between the accessory and the shoe.
How to care for child shin pads ?
Certainly, this equipment will face a lot of wear and tear. Bumps and sweat will affect them over time. To make them last longer and prevent bacterial growth, regular maintenance is essential. How? Wash them after each use in 4 simple steps:
1. Use a bucket of warm water.
2. Brush the inside, in contact with the shin, with soap.
3. Rinse the entire accessory without submerging it in water.
4. Allow them to dry in a dry and well-ventilated place.
Lastly, regularly inspect the condition of the outer shell. If it's damaged, it won't provide optimal protection and could even harm your child. Remember: a crack requires replacing the accessory.
Now, child soccer shin pads hold no more secrets for you. Just as with shoes, pay special attention when buying them.
Choosing the right shin guards reduces the risk of injuries. Your child's health is at stake. If you want to give them a great gift for their upcoming vacation, feel free to contact us by clicking the "Contact" link at the top right of this page.
We offer soccer camps in USA and abroad – for all levels, for boys and girls, so they can thrive in their practice. Full board or half board soccer camps.
What better opportunity to test their new shin guards?