TOP 6 Best Football camps for Children 2024
Is your child a massive soccer fan? Are you looking for an incredible experience to keep them busy during the school holidays?
Have you considered sending them to a soccer camp, but you are reluctant because you know nothing about them? No need to panic, we are here to help you find the soccer camp that is perfectly adapted to your and your child's needs!
In this article, firstly we will give you some advice on what you need to consider when picking a soccer camp. Then, we will unveil our list of the very best soccer camps in the world for children.
Let us guide you!
How to go about choosing a soccer camp for your child?
Whenever parents call us up for advice in choosing the right soccer camp, our answer is always the same: you first need to answer the questions below. Then, when you have your answers, you will have a decent idea of the kind of camp and maybe even the camp itself that you want to send your child to.
Indeed, hundreds and hundreds of soccer camps are organised all over the world. However, not all of them are similar in quality, and they all have different characteristics. For your child to have the holiday of their dreams, it is crucial that they feel at ease in the camp that you send them to.
Here are the questions to ask yourself.
Can my child sleep on site at the soccer camp?
As you can imagine, there are both full board and half board camps organised around the world. Some children struggle to sleep properly when away from their own beds or from their parents. Of course, the camps always have a team of supportive staff members dedicated to help your child with any difficulties sleeping. But, it is still a better idea to ask yourself the question now rather than it being an issue later.
What language(s) does my child speak? Is he ready to travel abroad?
As we will discuss later in this article, there are soccer camps all over the world. Most of the big clubs in the world now organise these types of events. However, not all of them offer bilingual camps or host foreign children.
So, before sending your child to the camp organised by the foreign club he supports (often because they adore a particular player), make sure to check that they offer camps in the language that your child speaks. For example, if you want to send your child to France, make sure that they offer an English speaking camp or that your child speaks French. This is indispensable for properly communicating with the other players as well as the coaches and staff members.
Another point, remember that sending your child abroad means travelling long distance. Make sure that your child is happy with the idea of travelling far away from you (if you do not plan on going with them).
Will they be with other kids their age?
Another important point to consider: the age of the participants.
Sometimes, parents ask us: "My child is six years old and the camp is for seven year olds and up, that should be fine shouldn't it?" Once again, our answer is always the same: if clubs put a maximum and minimum age, it is to make sure that all their participants are as similar as possible. This encourages cohesion and friendliness in the group, and it means that the level of soccer will be more similar among the players.
Indeed, for the kids to have the most fun, they need to be confident and at ease, with other kids of their own age. So, make sure that you pick a camp with an age group that your child falls into.

Does my child's footballing level match the level of the camp?
In the variety of camps that exist, it is important to distinguish the different types of camps, notably leisure camps, improvement camps and intensive/high performance camps.
Parents regularly call us up to book an intensive/high performance camp for their child. Of course, it is more than legitimate for a parent to want to give the best to their child, especially if their child doesn't stop talking about soccer and becoming a professional. However, some children are not well suited to intensive/high performance camps.
For most intensive camps, you need a minimum footballing level to participate: it's a requirement. Some will require being signed up to a training centre or a professional soccer club's academy, to make sure that the kids will have a similar amount of skill and experience. A level playing field is crucial for all kids to improve and develop.
So, if your child is a beginner, aim for leisure soccer camps. If they regularly play at a decent level, then the improvement camps are the perfect opportunity to improve at soccer while having fun. If your child is better than most kids his age and has already been scouted by professional clubs, then intensive camps are made for him!
What is my budget?
Last but not least, you need to ask yourself what budget you want to dedicate to this camp.
soccer camps can vary in price significantly, and there is a very wide range of prices. The cheapest start at only tens of euros (often half board camps at local clubs with local coaches) while others will cost over €2000 for two weeks.
Of course, what is offered at and during the camp usually depends on the price that you pay. Some camps offer optional language classes, while some camps include an incredible day at Disneyland Paris!
So, based on your budget, you will have access to some camps but not to others. The good news is that on Looking For Soccer, we have carefully chosen only the best soccer camps so that you can gift your child the holiday of their dreams!
The five best soccer camps in the world
Now that you know how to choose THE camp that is perfect for your child, we are ready to unveil our selection of the best five best soccer camps in the world.
The first three camps are leisure/improvement camps, the right choice if you want your child to have an incredible holiday, make lots of new friends and play lots of soccer. The other two are intensive/high performance camps: ideal for kids who are already very good at soccer to become exceptional.
The Paris Saint Germain soccer camp – Paris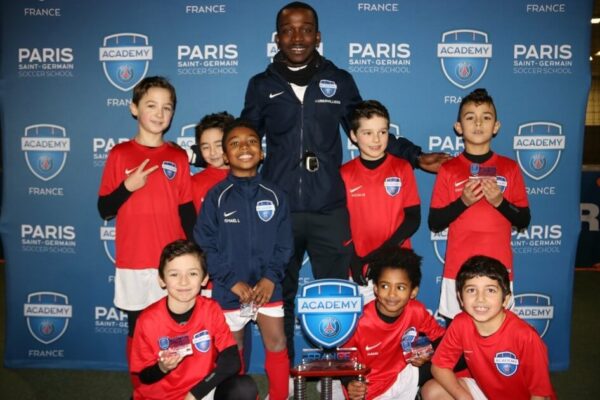 Why is this camp one of the best?
30 hours of training sessions within the Center of Resources, Expertise and Performance in Sport, that has hosted some of France's top athletes
If you choose the option, the PSG Academy camps can combine soccer with language lessons
Many day trips and excursions are scheduled: a tour of the PSG stadium, le Parc des Princes; a trip to Disneyland Paris for the two week camp; sightseeing the main Paris monuments: the Eiffel Tower, the Louvre…
Options for both strikers and goalkeepers are possible
Interested in this soccer camp for your child? Find out more about the PSG soccer camp

The FC Barcelona soccer camp
Why is this camp one of the best?
14 days of camp, allowing each participant to improve their soccer skills as well as their human skills thanks to personalised coaching and feedback
20 training sessions within La Masia, the official, legendary FC Barcelona training centre. Have you heard of Xavi or Iniesta? Lionel Messi? It was in La Masia that they developed and perfected their incredible soccer skills
Guided tour of the Camp Nou, Barcelona's huge stadium that can host almost 100,000 fans
Ticket for Port Aventura, the famous theme park where each kid or teenager is sure to quench their thirst for thrills and excitement
Interested in this soccer camp for your child? Find out more about the FC Barcelona soccer camp
The Manchester City soccer camp
Why is this camp one of the best?
All training sessions will take place within the Etihad Campus, the official training centre of Manchester City soccer Club. Who knows, your child might even be lucky and run into a star City player.
A camp adapted to all levels: whether your child wants to become a professional or is just playing for fun, you will definitely find the right formula for your child
Tour of the Etihad Stadium, Manchester City's stadium that can host almost 56 000 fans
A version of the camp with language lessons so that your child can combine the enjoyment of soccer with language lessons
Interested in this soccer camp for your child? Find out more about the Manchester City soccer camp
The ICEF soccer camp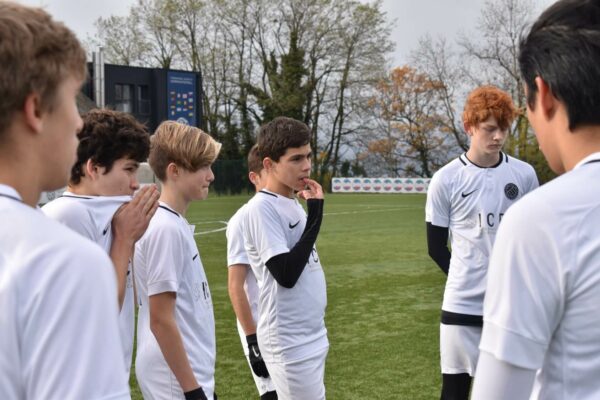 Why is this camp one of the best?
The sporting facilities are of professional standard and the setting is magnificent
The camp's program is intensive and has been studied to favour progress during pre-season
The week of training is very complete, from Saturday to Saturday, and completely adapted to the seasonal location, which is perfect for family holidays
Tactical sessions, individual coaching, video analysis sessions. It's all there, just like for the pros!
Interested in this soccer camp for your child? Find out more about the ICEF soccer camp

The Real Madrid soccer camp
Why is this camp one of the best?
Each participant is housed in the exceptional Real Madrid Campus
Each training session takes place within the club's official training centre: your child will play on the same pitches as the Spanish capital's biggest stars
Tour of the Santiago Bernabéu, Real Madrid's iconic stadium
Language lessons (English and Spanish) to mix enjoyment with learning
Interested in this soccer camp for your child? Find out more about the Real Madrid soccer camp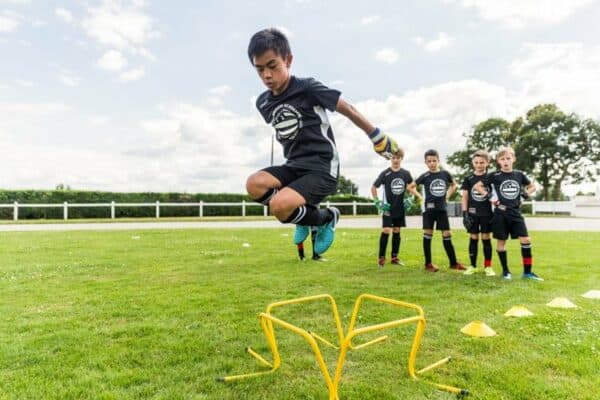 There are lots of soccer camps in the world: find the perfect camp for your child!
In this article, we have presented 5 camps that we can offer you. However, there are many more being organised worldwide, that could potentially be better suited for your child. If you are looking for the perfect soccer camp, do not hesitate to contact us: our team of advisors will accompany you throughout the process of picking a soccer camp!
If you enjoyed this selection of camps, we also have other themed lists: the best soccer camps in the world, the best soccer camps in summer or even the best soccer camps dedicated to girls. Consider checking them out if you are looking for ideas.

Rate this
Rated 4.5 / 5 based on 120 reviews