Book the best soccer camps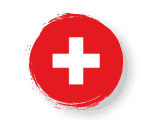 Soccer Camp
Switzerland
Several soccer camps are organised in Switzerland for a week each year, and amateur players come and participate to improve their game and their understanding of it thanks to competent coaches.
Filter camps
football camps matching
Why do a soccer camp in Switzerland ?
Doing a soccer camp in Switzerland is firstly the chance to live your dreams: to live like a professional soccer player for a week.
It is also the chance to improve and progress in different areas of the sport, off the field and on it.
Finally, it is also the chance to meet people, make friends and to share a passion for soccer with everyone else at these camps, all while benefitting from measured advice from the coaches throughout the camp.
Discovering Switzerland, the "neutral" territory
In the middle of Europe, surrounded by many other countries, Switzerland, with its capital in Bern, has managed to impose itself.
It is mostly bordered by the Alps and the location of its territory allows it to benefit from several languages: French, German, Italian and Romansh.
Despite its small size, Switzerland has several large cities such as Zurich, Geneva, Lausanne and Basel. In addition to its rich and diverse culture, the country has great soccer clubs such as FC Basel, FC Zurich, and FC Lucerne.