HOW TO KEEP YOUR CHILD BUSY: A DREAM HOLIDAY
This is it! The long-awaited moment has arrived! Vacation time is here. Your child is with you 24 hours a day. And you feel uncomfortable imagining him or her constantly staring at screens or walking in circles. But don't worry! Let us tell you a secret: you can keep your child busy and give him or her a dream holiday, with no smartphone or gaming console.
Best of all, giving your child this great gift is easy as pie.
Sceptical? Then read this article to the end, as we will explain everything about these unforgettable moments ahead.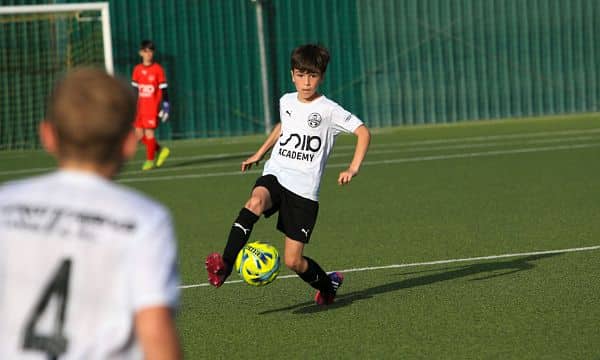 FOOTBALL CAMPS: THE FANTASTIC GIFT
Is your child an absolute football fan, following the latest news from the biggest European clubs such as PSG, Real Madrid or Liverpool?
Why not offer a camp organised by these glorious clubs?
Plus, Looking For Soccer handles everything.
For you, we have selected the most PRESTIGIOUS football camps on the continent.
Your child will benefit from the best conditions to fulfil their passion for football.
With full board, they will be accommodated in a high-end hotel and supervised by qualified staff.
They take part in educational and fun football workshops adapted to their level, as well as many other activities (mountain hikes, swimming pool…).
In other words, an environment conducive to their personal development.
Of course, children who join a camp, especially abroad, learn new skills and know-how. Thus, outside their comfort zone, they discover values such as respect for others, teamwork, autonomy, decision making…
A truly MEMORABLE adventure awaits…
Would you like to give them this wonderful gift? Discover our selection of training camps with full board.
KEEPING YOUR CHILD BUSY DURING THE HOLIDAYS: THE CRUCIAL IMPORTANCE OF PLAY
When children are on holiday, we may be inclined to give free rein to all their desires, so that they can relax.
They meet up with their friends, and soon this little group of friends locks themselves in a room for hours on end to play their favourite video games.

And when they leave them, it's to sit on a sofa and face their smartphone.
At the end of the day, children are dazed by screens. They have not woken up. They have not shared anything with their parents. Worse still, this behaviour, if repeated, will SERIOUSLY undermine their health.
Think about it!
According to the World Health Organization: "80% of teenagers are not active enough." (Press release of 24 April 2019 – Source: WHO official website).
And the associated risks are not to be taken lightly: obesity, sleep disorders…
In the same press release, the organisation estimates that 5 million deaths per year, all ages combined, could be avoided by following their recommendations on physical activity.
Dr Juana Willumsen, head of childhood obesity and physical activity at the organisation, commented: "What really needs to be done is to bring play back into the centre of a child's life. It's about spending less time on sedentary activities and more on play, while protecting sleep."
Lacking inspiration? Here are some examples of indoor and outdoor activities that will stimulate your child, alone or with others:
KEEPING YOUR CHILD BUSY DURING THE HOLIDAYS: EXAMPLES OF INDOOR ACTIVITIES
No doubt, a very fun activity that also requires minimal equipment – all you need is a sheet of paper and a pencil.
You sit down at the dining table and turn the light off.
One after the other, each participant announces something to be drawn (a dog, a plane, etc.). Once all the announcements have been made, you turn the light back on to admire everyone's drawings. Guaranteed laughter!
USE THE MAGICAL POWERS OF CLOTHES PEGS TO ENCOURAGE LISTENING AND CONCENTRATION
A very fun activity with several young children. Hand out 6 clothes pegs to each participant and make sure they attach them to their clothes.
Then set the timer for 10 minutes.
Meanwhile, let the children move around freely and interact.
A child says the words "yes" or "no"? Another player who heard it can then "snatch" a peg from the child and hang it on their clothes like a sheriff's star.
The child with the most pegs at the end of the ten minutes wins the game.
"TOP CHEF" AT HOME: AWAKENING THE SENSES
Your child and their friends seem busy? Perfect! Now you can come up with a special game for them. It will certainly awaken their senses, both smell and taste!
The principle is very simple.
Prepare 4 bowls (or plates) with the same food, such as fruits, and place them on the dining table.
Once the preparations are finished, give the children blindfolds to cover their eyes before entering the room.
The children are ready. Bring one child to the dining table to smell each food while the others stay outside the room.
They find out about the food by smelling it? Well done! They get two points. They need to taste it to identify it? Pretty good! One point earned.
The child with the highest point total wins the game.
A particularly tough game, since the participants are only allowed two answers:
one for smell;
one for taste.

KEEPING YOUR CHILD BUSY DURING THE HOLIDAYS: EXAMPLES OF OUTDOOR ACTIVITIES
THE TREASURE HUNT: A GAME WITH COUNTLESS BENEFITS
This one is TIMELESS! Outdoors, this activity can keep children busy for a really long time.
Treasure… A magic word. At the mere mention of it, their eyes sparkle.
Rapidly, they imagine themselves participating in the adventures of their favourite heroes: Harry Potter, Pokémon, Tintin…
The principle of the game is simple.
It consists of a journey with different stages. A stage represents a meeting point (next to a tree, a swing, etc.).
To move on to the next stage, children must solve an enigma (charades, riddles…) to find a clue.
For example:
"Every day, the dishes take a bath there." (The clue is in the dishwasher.)
"I come with you to school every day, but you never pick me up during the holidays." (The clue is in a schoolbag.)
The children now know all the clues? They can then go to the place where the TREASURE is located… A nice shoebox full of treats – it doesn't hurt once in a while.
Treasure hunt, a really fun and VERY engaging game.
The children move, read and focus. They must use their logic and find their way in space.
Really, a very fulfilling activity.
DODGEBALL: A FUN, TACTICAL AND PHYSICAL GAME
Another very popular classic. Is your child having lots of friends over? Is the sun shining? Is the weather mild?
If you answer "Yes" to these three questions, organise a dodgeball game. It is sure to be a hit!
Consider it! All you need is a ball and some small studs to mark out a field 15 metres long and 10 metres wide – a piece of chalk can do the trick.
Your playing area looks like a volleyball court, without a net. At each end is the prison for each team. And each team has its own camp.
The goal is simple: to take as many prisoners as possible.
How? By hitting an opponent with the foam ball – preferably a dense one.
An opponent who is hit must go to prison, in the opponent's camp.
However, if they catch the ball, then the thrower must go to prison on the other side of the field.
In all cases, the prisoner takes the ball with him. To free himself, he must touch an opposing player.
Target missed? No big deal, other opportunities will present themselves. A teammate can send the ball to him. Also, a ball out of the playing area goes back to the prisoners in that half of the field.

When all the members of a team are in prison, the game is over.
Dodgeball is a game that is beneficial to children's development. They must find their way in space, develop strategies and practice their skills.
Drawing in the dark,
Clothes pegs,
"Top Chef" at home,
Treasure hunt,
…
For sure, these little games will delight the youngest. You'll keep your child busy during the holidays and see them blossom.
But wait a minute, the best is yet to come…
… you can offer your child a truly UNBELIEVABLE experience…