Book the best football camps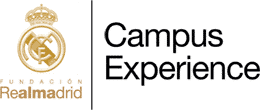 Football Camp
Real Madrid Foundation Campus Experience
A football camp at Real Madrid is the ideal way to perfect your overall play, with trainings on the pitch as well as practical teaching by professional coaches.
Filter camps
football camps matching
Why do a football camp at Real Madrid ?
It is always interesting to learn more about your passion and a football camp at Real Madrid will help your child to learn so much more about the sport, and appreciate it in a deeper way.
For a week, the participants will live together and dedicate their lives to football, as specialist coaches give their crucial advice.
They will guarantee each camper improving their technique and their tactics, all while learning about team spirit and respecting their teammates.
Whether it is on the pitch or in football theory, nothing will be put to a side during these seven days.
A few points about Real Madrid football camps
The players will spend a week playing football, with individualised feedback at the end of the camp.
The primary obective is for each camper to share their passion for football, with either the other players who have come to learn or with the qualified coaches.
Training sessions at the Real Madrid football camp are both theoretical, with refereeing and dietary sessions for example, and practical, with coaching intended for all positions (defender, striker, goalkeeper… )
The coaches have designed a specific training program with rules, drills and matches.