What are the 5 Best Football Camps in France in 2024?
Did you know that there are several high quality Football camps in France ? Did you know these camps are made possible thanks to some of the biggest French clubs ? Did you know that some French Football camps were created over fifty years ago ? Looking for Soccer and its teams have prepared a selection of the
5 best Football camps in France.
These camps provide young players from France and all over the world an unforgettable vacation all the while helping the young players perfect their skills. Find out more about these
Football camps in France.
What are the best Football camps in France ?
Nowadays, many professional clubs organise Football camps for kids and teenagers. It is not the case for all French clubs, but some camps are structured to offer experiences that are becoming more and more complete. Traditionally, the most known Football camps in France are those from former French glory but more and more young fans are know choosing the camps of the biggest French clubs, such as Paris Saint-Germain, the Olympique Lyonnais and the Girondins de Bordeaux. Looking for Soccer assists you by selecting the 5 best Football camps that are offered in France. We will immediately explain why they are truly exceptional.
The Paris Saint-Germain Football camp in Paris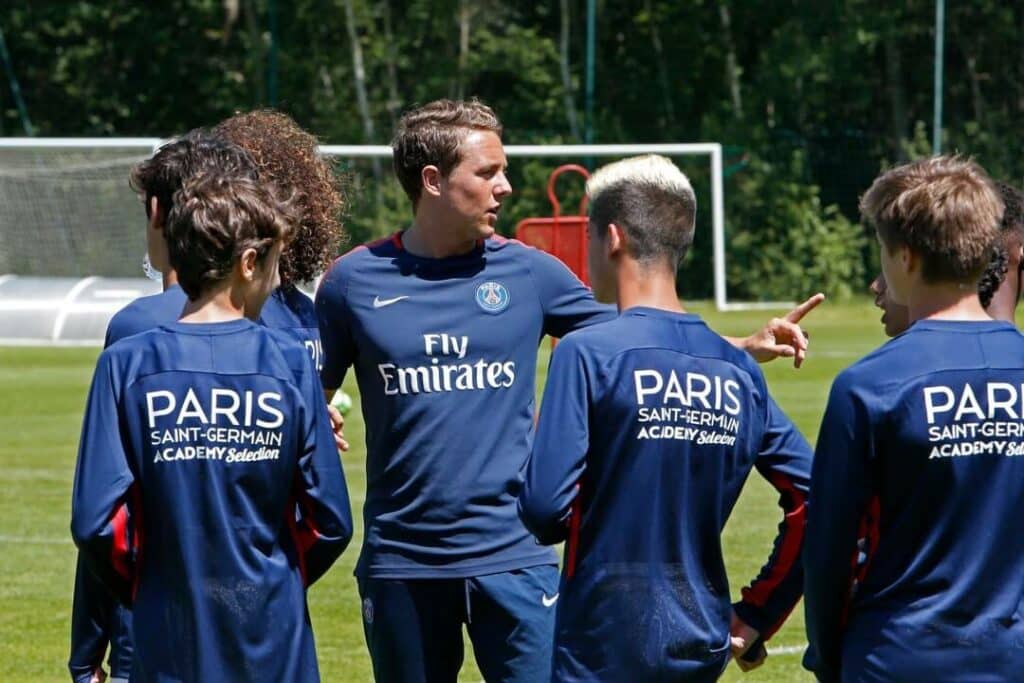 Where else to start than the biggest French club at the moment ? Champions League finalists in 2019/2020, Paris Saint-Germain is very well established in France and is now a major club in the world, with stars such as Neymar and Mbappe. These players help Football fans to dream and the PSG Academy Football camp allows young players to place themselves in the cleats of these stars for one or two weeks, with ideal conditions.
What makes this camp exceptional ?
30 hours of training sessions are planned, all taking place within the Center of Resources in Sport Performance and Experise, which hosts some of the very best French athletes
If you want, the PSG Academy Football camps can be combined with language classes to mix pleasure with learning
Many trips and excursions are on the schedule, such as the Parc des Princes and Disneyland Paris for the two week camps as well as the main monuments of Paris: the Eiffel Tower, the Louvre…
Options for both goalkeepers and forwards are available
Interested in this Football camp ? Find out more about
the official PSG Football camp

The International Center of European Football Football camp in Evian-les-Bains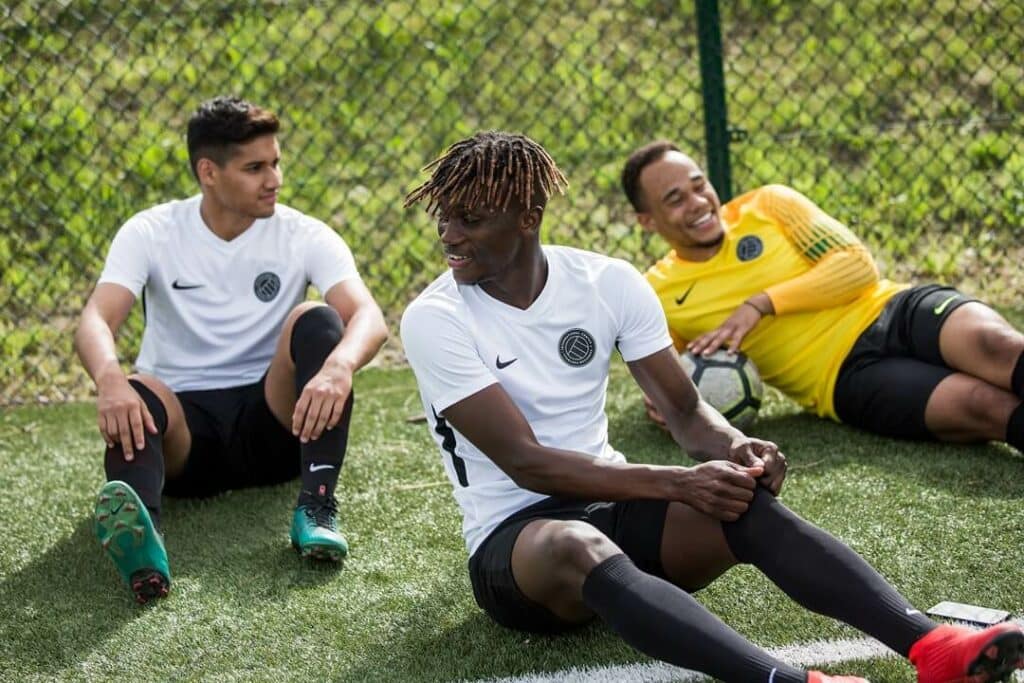 Located in the French Alps, the ICEF is offering Football camps with a very high standard centered on the evolution and progress of the young players' Football ability. Thanks to the absolutely magnificent setting of the Lac Léman and the sporting facilities of the professional club Thonon Evian Grand Genève, this camp is perfect for all the kids wanting to spend the summer improving and coming back stronger after the vacation !
What makes this camp exceptional ?
The sporting facilities are of the highest quality and the picturesque setting
The schedule of this camp is intense and studied to help improve from pre-season onwards
The week of training is complete from Saturday to Saturday and adapted to the seasonal locations for family vacations. It is ideal for parents who want to holiday in the region
Tactical sessions, individual coaching, video sessions. It is all there, just like the pros !
Interested in this Football camp ? Find out more about the
ICEF Football camp
The Girondins de Bordeaux Football camp in the Haillan
The Bordelaise region hosts many tourists each vacation, thanks to the unusual excursions it offers in the region and the Atlantic Ocean. The Girondins de Bordeaux is offering an unforgettable vacation for any child that wishes to spend a week playing Football in the professional training center located in Haillan. These camps have existed for over 30 years and have hosted many professional players, most notably Kyllian Mbappe. It is therefore with great professionalism and lots of experience that the teams from the Cap Girondin are looking forward to welcoming your kids.
What makes this camp exceptional ?
The camp unfolds in the training center of the Girondins de Bordeaux : Le Haillan
The team of "Cap Girondins" has more than thirty years' experience in this field, which has allowed them to modify and improve the camp into what it is today
La région d'Aquitaine est magnifique et idéale pour passer des vacances en famille
Interested in this Football camp ? Find out more by
contacting us through this form

The Jean Michel Larqué Football camp in Saint Jean de Luz
Very well known by French adults, a bit less by the younger French generation, Jean Michel Larqué is a RMC radio host and more importantly, a Saint-Etienne legend. Many years ago, he created Football camps in his name to allow the youngest players to benefit from his experience. Located near Saint Jean de Luz, his camps are the ideal setting to spend a week playing Football for any young player between the ages of 8 and 18.
What makes this camp exceptional ?
The camps take place in the football complex of Chantaco, which is high quality and has several Football fields for its campers
Jean Michel Larqué will be there every day and there should normally only be 10 players for every coach
The camps takes place in the Basque region, famous for its gastronomy and ideal for family vacations
Interested in this Football camp ? Find out more by
contacting us through this form
The Bernard Bosquier Football camp in Cavaillon
Bernard Bosquier is an ex-French international that plied his trade at Saint-Etienne and then later in Marseille. Not long after his retirement in 1981, he created this camp to help children from all over the world benefit from a professional program. A precursor in this field, it has now been over 50 years that Bernard Bosquier and his organisation has been coaching hundreds of young players every year. This undeniably makes the camp one of the best in France.
What makes this camp exceptional ?
It is a week that is 100% filled with Football with trainings in the mornings and afternoons
Every day, a conference will be organised, with topics such as diet, doping and positioning on the field being discussed
A training program specifically designed for goalkeepers is available
Parents that vacation nearby will be able to spectate some of the training sessions and the final tournament
Interested in this Football camp ? Find out more by
contacting us through this form
Ready to discover a Football camp done "à la Française" ?
This selection of
the best Football camps in France
allow you to discover different types of Football camps in several French regions, letting you combine sporting activity with unforgettable vacations. If you wish to know anymore about these caps or you have any questions, the teams from Looking for Soccer will be thrilled to help you find a Football camp that is ideal for both your child and the whole family.
Would you rather your child explores another country and another type of Football ?
No problem, Looking for Soccer offer Football camps throughout the entire world and we invite you to have a look through our selection of camps in European countries such as Italy, Spain or England, or even in the United States. We feel certain that you will find the ideal place and ideal schedule so that these vacations will be truly unforgettable.