What are the best soccer academies in France in 2024 ?
As a soccer fan, the feeling of a youngster coming up through the academy and popping up out of nowhere to score a last minute winner is indescribable. We have all asked ourselves "What if it had been me ?"
In reality, joining a soccer academy is a complex process and France has a reputation for having very good academies, and the selection process is strict.
When the first team is struggling to perform or there are lots of injuries, young players get their chance. Currently World Champions, France has more than enough young talent, but where has it all come from ?
So, what are the best French soccer academies ? Is AJ Auxerre, a club that has always produced a lot of players, still top of the rankings ? Not necessarily, as we will find out !
Looking For Soccer, the go-to website for finding a soccer camp at some of the biggest clubs in the world, delivers its very own list of the the best academies in France.
The Paris Saint-Germain Academy
It should come to no surprise to anyone that PSG has the leading French soccer academy. Some of the biggest players in the world started their career with PSG, such as Kingsley Coman who has already won the Ligue 1, the Serie A, the Bundesliga and the World Cup for a total of 20 major titles in his career.
Presnel Kimpembe is another major name on the list of academy graduates but it is also the quantity of players that PSG has produced that is impressive. Aréola at Fulham, Zagadou at Borussia Dortmund, Rabiot at Juventus, there are PSG Academy graduates in all the big leagues in Europe. When an academy produces such quality at such a quantity, it simply must be the best.
Just to know, for any child it is possible to have an introduction to the methodology of the PSG through the soccer camps of the club of the French capital.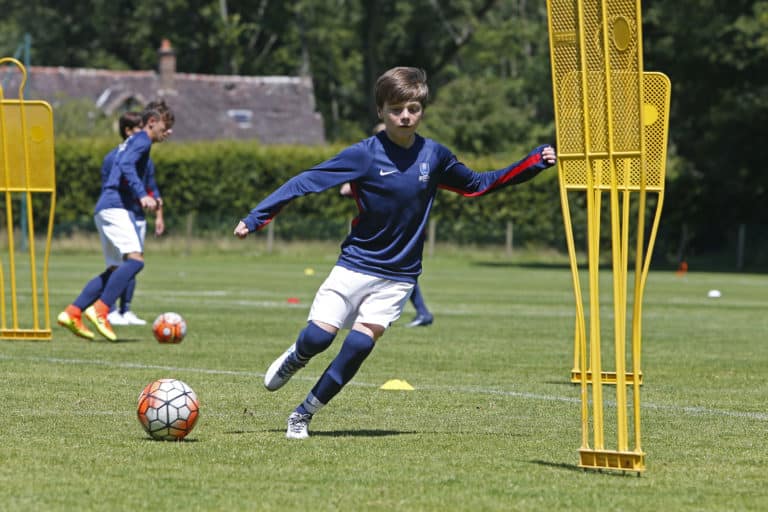 The Rennes Academy
Rennes, who have been performing well as a club in recent years, with a victory against Arsenal in the Europa League being a highlight, also have a high quality soccer academy.
The young players at Rennes Academy are given a real chance to show their talent and a lot of their players become French internationals. The best current player to come from the academy is undoubtedly Ousmane Dembele, who currently plays for Barcelona. If he can stay free of injuries, then he could go on to become a sensational player and make the Rennes Academy very proud.
The Olympique Lyonnais Academy
When talking about the best academies in France, it is impossible to not include Olympique Lyonnais in conversation.
It has been producing quality soccer players for years and years, none better than Karim Benzema.The French striker has been in the Real Madrid starting eleven regularly since he arrived, and it is his understanding and vision of the game that makes him such a threat to the opposition.
If Benzema was not proof enough of the OL academy quality, other examples of graduates are Alexandre Lacazette at Arsenal, Corentin Tolisso at Bayern Munich and Samuel Umtiti at Barcelona.
Honourable Mentions
Of course, there are more French academies that can produce excellent soccer players. The Saint-Etienne Academy is represented throughout Europe, like with Saint-Maximinin at Newcastle, Ghoulam at Napoli and Loic Perrin who stayed at his boyhood club.
AS Monaco also has a very good academy, historically and currently. Both Kyllian Mbappé and Thierry Henry, two of France's top talents in history, started their career by rising through the Monaco Academy.

Rate this
Rated 4.3 / 5 based on 211 reviews