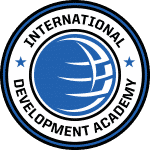 Soccer Camp
International Development Academy – Valencia
Valencia, Spain
from 3209 $
Pre-registration 2023 – Contact us
Spain is famous for its beautiful style of play. From Guardiola's Barcelona to Vicente del Bosque's Spain, Spanish teams dominated club and international soccer alike for several years. Barcelona and Real Madrid have won 11 Champions Leagues since 2000 and the Spanish national team became the only team to win consecutive Euros. Oh, and they also won the World Cup in 2010, meaning they were unbeatable and imperious between 2008 and 2012.
Spaniards revolutionised soccer thanks to their style of play, based on possession, passing, rapid transitions and individual players with heaps of technical skill and tactical awareness. Various teams have had no choice but to emulate this style to win titles, as when implemented properly with the right of calibre of players, it can be almost unbeatable.
It is for this reason that lots of parents want their kids to do a soccer camp in Spain, so that they become imbued with this unique methodology and style. The International Development Academy, recognising this, created an academy in the beautiful town of Valencia. Their training methods, designed and implemented by coaches with UEFA Pro and UEFA A diplomas, have a great reputation. The campers will be surprised at how much they improve at these camps, both on and off the pitch.
The methodology is based on targeted drills and exercises, that are then implemented and applied in matches and match-like situations, before finally video analysis sessions complete the process, allowing the players to recognise their strengths and weaknesses. International Development Academy therefore offers a well-rounded and thorough system for your child's improvement.
On top of that, an important part of the International Development Academy project takes place out of soccer. Human values are heavily emphasised throughout the camp and shared by the coaches. Three values are particularly important: integrity, good behaviour and accomplishing goals (challenging and pushing yourself).
In a nutshell, International Development is offering a comprehensive, thorough soccer camp in an exceptional, Spanish setting. With a lovely beach a few minutes from the campus, Valencia's climate and location is ideal for a soccer camp.
Find out more about the camps
Demande d'informations
"*" indicates required fields
The available camps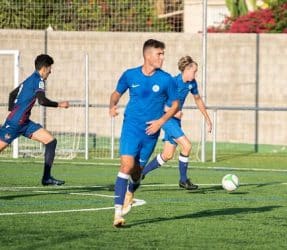 Full-board - Boys
Valencia, Spain
From 12 to 18 years old
Boy
Residence Camp
Improvement / Intensive
Spanish
Camp specifics
14 days within a sporting campus
2 training sessions a day
Video analysis sessions
Evening soccer tournaments
UEFA Pro coaches
A Nike kit given to every camper upon arrival
Access to all the campus facilities
Tour of Valencia's Mestalla Stadium
Trip to Valencia
Find out the dates available for this camp
I book this camp !
Contact us
"*" indicates required fields
X
Merci de nous avoir contactés ! Nous vous répondrons dans les plus brefs délais.
Need advice?
Contact us
Support?
Camp facilities
The essentials
Soccer camp in a modern campus, entirely dedicated to sport
The "International Development Academy" methodology
Tour of Valencia and its legendary Mestalla Stadium
UEFA Pro and UEFA A qualified coaches
Specific goalkeeper training
Location
The International Development Academy soccer camps in Spain take place fifteen minutes away from Valencia. The culturally significant town is one of Spain's most welcoming places. The weather is lovely all year, and your child will be able to enjoy the sun on Valencia's incredible beaches and in its shops and restaurants.
The soccer campus is located in Torre en Conill Norte, a peaceful and tranquil town in the north of Valencia. The calm environment will be ideal, as your kids will be able to focus completely on soccer. The campus has high quality sporting facilities including soccer pitches, an athletics track, gyms, basketball courts, padel courts and a swimming pool.
Your child will be in an environment entirely dedicated to sports and will find themselves in the shoes of a professional athlete for two weeks.
Accommodation
Just fifteen minutes away from the centre of Valencia, your children will be hosted in the Mas Camarena Resort, a student resort that doubles as a sporting centre. It has a fantastic reputation in Spain for players wishing to combine their studies with high level sport.
The resort is well equipped with recent facilities: bathrooms, air conditioning, toilets and the Wi-Fi is free. There are many common areas for the children to enjoy themselves when they're not on the soccer pitch. They will also have access to the swimming pool, the various sports courts and the gym.
The bedrooms are all within the entirely private campus. Training sessions will be a short walk away.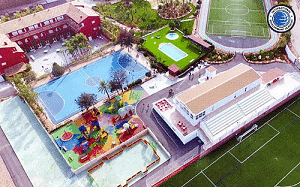 The sporting Facilities
The sporting facilities at the Mas Camarena sport centre are top of the range. The campers will train and play on a full sized, latest technology artificial pitch. Moveable goals on the side of the pitch will give the coaches more flexibility with drills and exercises.
All training sessions at the International Development Academy are filmed. This is so the campers and coaches can review and analyse the footage. The players can then objectively see what they are doing well and what they're doing not so well, letting them work on their weaknesses and reinforce their strengths.
In order to maintain an appropriate physical condition and for the campers to have fun together, they will have access to all their sporting facilities: the gym, the swimming pool, basketball courts and even the sauna.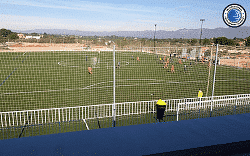 Catering and food
All meals are included at the International Development Academy soccer camp in Valencia. Sports nutritionists think out the menu, meaning that your child's diet will be perfect for intense soccer trainings and matches.
There will be three meals a day (breakfast, lunch and dinner), eaten in the Resort's restaurant. The meals will be healthy, tasty and balanced.
If your child has any dietary requirements or allergies, then let us know in the registration form and the nutritionists will take these into account.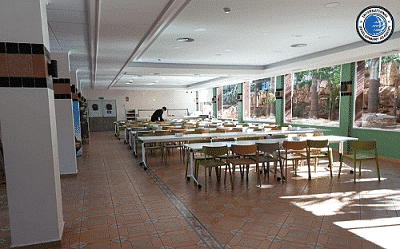 Safety and security
The Mas Camarena Resort where the camps take place is an entirely private campus. Security guards will be present 24/7 at the entrance and throughout the campus. Only authorised personnel will be allowed into the resort.
On top of that, whenever the campers are not on the soccer pitches, IDA staff will accompany and supervise them, wherever they are. Students are on campus all year long, so the security guards know what they are doing. There is no reason to worry.
Need advice?
Contact us
Support?
The camp program
Training
The methodology in place at the International Development Academy is very advanced and well thought out so that your kids will significantly improve over the two week period. The campers will be taken care of by well qualified coaches with considerable experience in training young players. They all have a UEFA Pro or UEFA A license. Your kids will be in good hands.
In terms of soccer, the days will be divided into three phases, each interlinked and interconnected:
Mornings are devoted to drills and exercises: technique, tactics, game intelligence, explosivity and finishing. The coaches will organise group exercises all while keeping an eye on each individual camper.
Afternoons are dedicated to muscle strengthening or video analysis. Indeed, morning training sessions are filmed and video analysis sessions are planned so that each camper can clearly see and understand their strengths and weaknesses. If there is no video analysis session, then campers will go to the gym or the athletics track to strengthen and reinforce their muscular development.
In the evenings, the third phase will be entirely dedicated to gameplay. Campers will face off in matches or tournaments. This gives them the chance to apply everything they learnt during the day, in the morning training sessions and afternoon video analysis.
This Valencia soccer camp's training program is intense and thorough and ramps up in difficulty throughout the two weeks. Your child will improve physically, technically, tactically… In other words, across the board.
Finally, if your child is a goalkeeper, then choose the goalkeeper option. They will then have specialised training sessions in the morning with focused drills and exercises. Then, they will also have the opportunity to apply everything they learn in the matches and tournaments in the evening.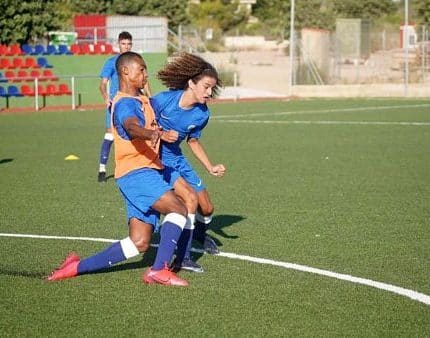 Coaches and coaching method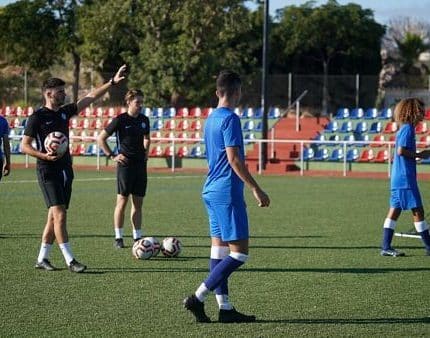 Your kids will be under the care and supervision of coaches with considerable experience with young soccer players and having worked in several different academies. They all hold a UEFA Pro or UEFA A license, proof of their quality and professionalism. The training program, based on drills, video analysis and application in matches, is sure to help the campers improve.
The training methods employed at the International Development Academy will help your kids considerably improve over the course of the two weeks, as they gradually get more intense and challenging.
Staff and activities
During the camp, there will be several non-soccer activities on the schedule. For this, there will be non-coaching staff to take care of the campers off the pitch, organise these activities and supervise the fun.
They will guarantee your children's safety, but they will also guarantee that your children have fun, make friends and make memories. There will be enjoyable activities on campus and trips and tours off campus during the two weeks.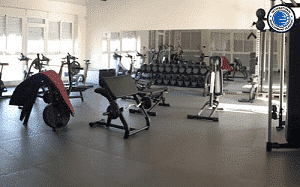 Trips and days out
Valencia is an incredible town and it would be a shame to send your child there to do a soccer camp without making the most of the town, its beaches and its cultural and historical importance. That's why the International Development Academy has planned an outing to explore the town and its beautiful sights and monuments.
A very memorable trip for your child will be the tour of Valencia FC's official stadium: the Mestalla Stadium. A legendary Spanish stadium, many players have called it their home and many trophies have been brought back to it. The campers will visit the trophy room, the dressing rooms, the conference/media room and will go pitch-side. A truly unforgettable experience.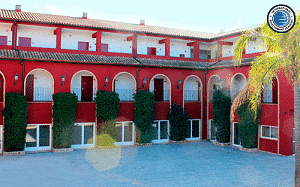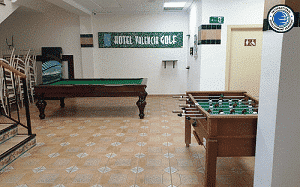 Typical day
Muscle strengthening and/or video analysis sessions
Need advice?
Contact us
Support?
Practical information
What is included
14 days within a sporting campus
2 training sessions a day
Video analysis sessions
Evening soccer tournaments
UEFA Pro coaches
A Nike kit given to every camper upon arrival
Access to all the campus facilities
Tour of Valencia's Mestalla Stadium
Trip to Valencia
Not included
Transport non-included
Pocket money
Personal insurance
Return airport transfer
Goalkeeper option
Cancellation insurance
Arrival
Arrival at the Mas Camarena Resort must be on the Sunday morning between 8:30 AM and 11:30 AM. This will give your child the chance to meet his teammates and take part in the opening ceremony, where they will meet the coaches that they will be spending the next two weeks with.
Departure
Parents must pick their kids up the Sunday from 8:30 AM, directly from the resort.
The camp at a glance
Features of the camp
Valencia, Spain
From 12 to 18 years old
Boy
Residence Camp
Improvement / Intensive
14 days within a sporting campus
2 training sessions a day
Video analysis sessions
Evening soccer tournaments
UEFA Pro coaches
A Nike kit given to every camper upon arrival
Access to all the campus facilities
Tour of Valencia's Mestalla Stadium
Trip to Valencia
Need advice?
Contact us
Support?