Book the best soccer camps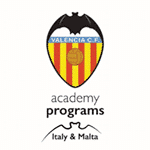 Soccer Camp
FC Valencia
On the search for a soccer camp at Valencia CF ? A whole week will revolve around the world's most popular sport, combining training on the pitch with theory lessons about a variety of different soccer themes.
Need advice?
Contact us
Support?
Contact us
"*" indicates required fields
X
Merci de nous avoir contactés ! Nous vous répondrons dans les plus brefs délais.
Filter camps
football camps matching
Why do a camp at Valencia CF ?
Anyone who wants to know what a professional soccer player's life is like should do a Valencia CF soccer camp. They are dedicated to combining improvement with passion for the beautiful game.
These events will allow participants to perfect their soccer knowledge but also, they will allow the campers to meet other people their age that share the same passion: soccer. The campers will receive lots of advice, given by qualified and experienced coaches, and their dreams will become reality.
The participants will leave the camp with more respect for the game, and, if they have put in enough effort on the pitch and in the theory lessons, as better soccer players.
A few points about the Valencia CF
The camps are organised with respect for the rules of soccer, as well as consideration for the wellbeing of the players.
The coaches will be there to teach soccer theory and to apply it on the pitch. They will coach all positions: goalkeepers, defenders, midfielders and forwards.
Conferences will also be given on various themes linked to sport, such as about doping or the laws of the game.
At the end of week, all campers will receive individual feedback so that they can keep working on everything they learnt at the Valencia CF soccer camp.