Goalkeeper training – 8 exercises and drills to help your child improve between the posts
Goalkeeper training… Of course, a goalkeeper's training must be very different to any other player. After all, goalkeeper is a unique position on a football pitch.
Over the course of a whole match, the keeper might only touch the ball a few times. Yet with the slightest mistake, the goalkeeper can put his whole team into a very delicate and dangerous situation.
Therefore, it is crucial to repeat training exercises in order to perform well and consistently.
Is your child a goalkeeper? Would you like to help them improve through fun and useful drills (that only last ten minutes)?
In this article you will find 8 drills and exercises that will help your child build very solid foundations for their future as a goalkeeper. And, if the two of you perform these drills consistently, then, slowly but surely, you will notice your child's focus, diving ability, coordination and distribution improving considerably.
And be sure to have a look to our best goalkeepers camps selection !

Goalkeeper training: catching the ball
Get two poles (or two cones). Place them 3 metres apart. Have your child stand between the two poles.
Put on your coaching outfit. Place yourself in front of him, about two metres away.
Now, throw him the ball.
Mix it up between left and right but make sure to always keep it between the poles and level with his torso.
The objective is simple: your child must catch the ball with both hands.
But that's not all…
He should also work on his catching technique, by safely trapping it against his chest.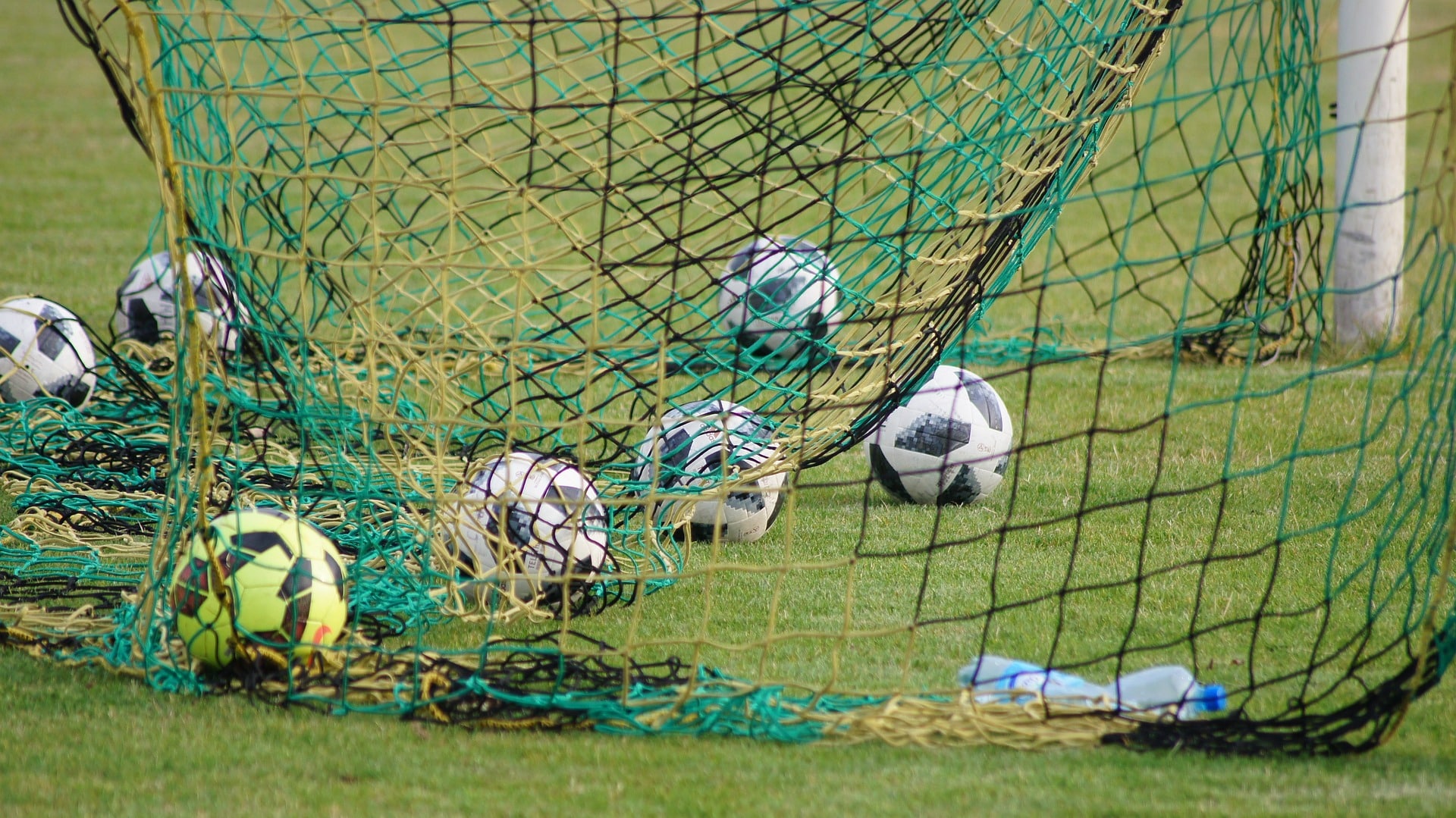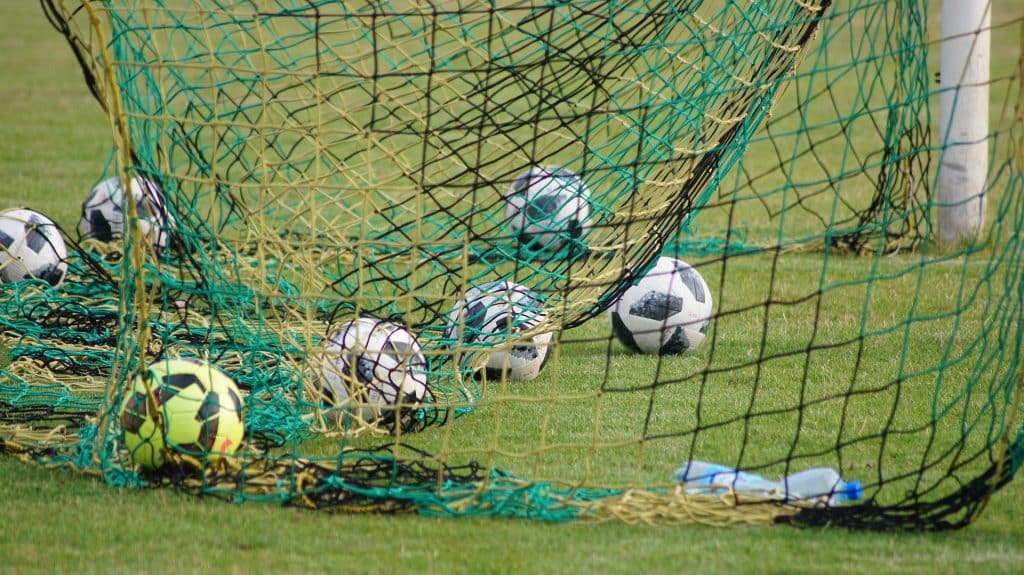 To work on better coordination
For this drill, equip yourself with two footballs. Stand opposite your child, each of you with one ball.
You will horizontally throw your football to your child. He needs to:
Vertically throw his ball, above his head
Catch the ball you threw
Throw it back to you
Catch his own ball
Excellent exercise for improving coordination and awareness.
Goalkeeper training : diving on the ground
Place two cones in front of the goal – this is the defined goal zone. Your child positions himself within this zone, as if he was ready for a one-on-one duel with an attacker.
From your hands, roll the ball to his sides, alternating between left and right. Roll it slightly outside of the goal zone.
The point of this drill? Your child must – very quickly – dive to the ground, so that he can deviate the ball with his hand, keeping it out of the goal.
A handy exercise for working on diving and horizontally stretching for saves.
A crucial skill for modern keepers: long kicking
Plant two poles in the ground, 3 metres from the other. This is the goal line. Your child positions himself on the goal line, ready to stop any shots.
You shoot the ball at him.
How does this exercise work? Your child must first catch the ball, then volley it away as hard and as far as he possibly can.

Goalkeeper training : focus and alertness
Place yourself two metres away from your child.
Your child must stand with his legs apart, in such a position that he is ready to intervene with a dive. He must stand solidly on his feet.
From your hands, roll the ball through his legs.
What does the keeper need to do? Be alert and focused.
With the ball behind his back, your child must:
Turn around in a flash
Get down on the ground
Catch the ball, without leaving his position
Recovering the ball from the ground while running
Mark out a goal line with 2 poles. Your child positions himself on this goal line.
Then, place 3 balls in front of the goalkeeper, 2 metres apart:
– The first one to the right.
– The second one in the middle.
– The third one to his left.
What is the drill?
Your child runs to a ball. He picks it up, then puts it back. He runs back to his goal line and continues with another ball.
If your child manages to pick up the ball without stopping, then the drill is a success.

Goalkeeper training: Dynamism
A drill to improve your child's dynamism. Your child should stand on a white line, constantly hopping up and down. You should face him, from around two metres away.
You then move parallel to each other, from right to left. As you move, you pass each other the ball by hand.
The aim is to not drop the ball.
Saves and shot stopping
The last drill ! Your child positions himself in front of his "real" goal. This exercise is … childishly simple.
Take lots of shot, always from behind the 6 metre line. Vary the angle of your shots as well as their height. No need to shoot hard.
This will put your child in a match-like situation.
Why not go one step further…
It's no relevation. To be a great goalkeeper, your child must repeat the same exercises and drills again and again, to make good goalkeeping habits second nature to him.
Don't forget ! If your child has decided to become a goalkeeper, that is no accident. In the style of Lloris and Neuer, your child dreams of becoming a brick wall in goal, letting nothing past thanks to sensational and acrobatic saves.
But… being a goalkeeper is more than just saves.
These drills have been designed so that your child enjoys practicing their skills. So that they avoid boring experiences that may lead them to changing position and abandoning goalkeeping.

It would be a real shame. Indeed, the position of goalkeeper helps develop values and skills that are useful across all disciplines, such as:
Responsibility
Relativism
Ability to bounce back after a mistake
Evaluating situations level-headedly
Communication with others
So, why not give your child the chance to participate in a football camp at a prestigious football academy?
Just imagine your child's excitement and joy when arriving at PSG, Real Madrid, AC Milan or Liverpool. Their ecstasy as they become part of the club that they adore, just for a few days.
We didn't pick those four clubs randomly. They are some of the greatest clubs in Europe, both historically and in the present day. They also offer a football camp for goalkeepers, from the age of 8.
For boys and girls. In full-board and in half-board. For all skill and experience levels.
Interested? Keen to find out more? Click on this link and immediately find out what these clubs are offering: https://looking-for-soccer.com/fr-fr/stages-football/gardien-de-but/