The 3 best intensive/high performance football camps
Does your child dream of one day becoming a professional footballer? As a parent, would you like to give them the most chances you can to achieve this goal? Do you want to take advantage of the school holidays to send them to a high performance, intensive camp, so that they understand and experience what the life of a professional footballer is like every day?
Then you are in the right place! Looking For Soccer, the go-to website for comparing and booking football camps, has prepared a selection of the best intensive football camps – also read high performance – to help you find the one that perfectly matches up with the ambitions that you have for your child.
In this article, we will first explain what a high performance camp is, to clearly distinguish it from leisure camps and improvement camps. We will also take a look at the entry requirements for your child to be able to take part in this sort of football camp. Finally, we will unveil our list of the best intensive football camps in the world.
Let us guide you!
What are the characteristics of an intensive / high performance football camp?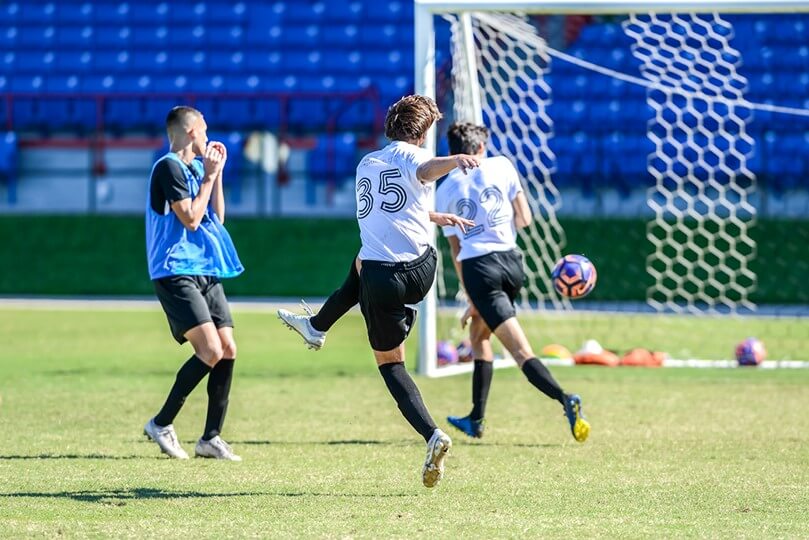 Before revealing our list of the best high performance football camps in the world, it is important to understand what an intensive football camp actually is: what makes it different from an improvement camp? What are the entry requirements for those wishing to participate in this kind of camp? Let's review!
What are the differences compared to an improvement football camp / a leisure football camp?
There are many differences between a traditional football camp (usually called an improvement or leisure camp) and a high performance camp:
The number of hours spent playing football during the camp
Indeed, at intensive camps, the amount of time spent on the pitch is generally more than 30 hours; for leisure camps, kids can expect between 20 and 24 hours of football
As well as more hours training, the intensity is a considerable difference. Indeed, the coaches for intensive camps are highly qualified and help every participant reach levels they did not know they were capable of. The coaches also ensure the players experience the camp to the fullest thanks to an  encouraging learning environment, in a technical, tactical and also human sense (professional football demands exceptional human qualities and this sort of camp is perfect for the kids to improve their mental state and techniques). In concrete terms:

Repeated exercises that foster technical progression

Repeated high intensity races

Extensive endurance tests designed to help players compare their fitness levels with the other campers

Most intensive camps also offer options that are not available in non-intensive camps such as individual and collective video analysis sessions, strength and muscle training sessions, in depth look into recovery and the oxygenation of muscles
High performance football camps are almost always 100% about football and nothing else. For example, while other camps include excursions and visits are organised to combine football with leisure activities (theme parks, sightseeing major monuments, beach trips…), intensive football camps completely focus on football.
The price… We won't lie to you: intensive camps tend to be more expensive than improvement camps. This is mostly due to the level of services offered, the skill and experience of the coaches as well as all the staff accompanying the technical director of the camp.

What are the requirements for participating in a high performance/intensive football camp?
We have deliberately separated the requirements from the differences with a leisure camp because it is a very important point for your child's participation in an intensive camp. Indeed, practically all the high performance football camps require the players to be members of a football club or team.
Why is this necessary? To align the levels of the participants and to make it clear to the kids (and their parents) that there are certain expectations of them if they participate. A similarity in skill level is crucial for improvement on both the individual and collective level. Often, players from the same club sign up to the same sessions and camp together, so that they can work together while improving individually.
Hopefully it is now clear, if you would like your child to take part in an intensive football camp, a decent amount of football experience and skill is required.  
Our advice
If your child doesn't have the required level or experience for this type of camp, the improvement camps that offer an intermediate footballing level are a better option. Indeed, there are several risks when you sign your child up for a camp that they don't have the required skill for:
The intensity at each training session is likely to be more than they can handle, exhausting your child and making them more likely to injure themselves
Your child, seeing that they are not as good as the rest of the players, could take it to heart and have a bad week
His teammates could tease him, which will not lead to the positive learning and improving experience the camp is supposed to be
Don't forget that before anything else, the camp is a holiday for your child. Think of his personal enjoyment before his professional ambition. Millions and millions of children worldwide dream of becoming professional footballers but very few succeed.
What are the best intensive football camps?
Now that you know the main characteristics of a high performance camp, we offer our selection of the best intensive football camps from all over the world. In our eyes, 3 camps particularly stand out.
The ICEF football camp – Publier – Haute Savoie – France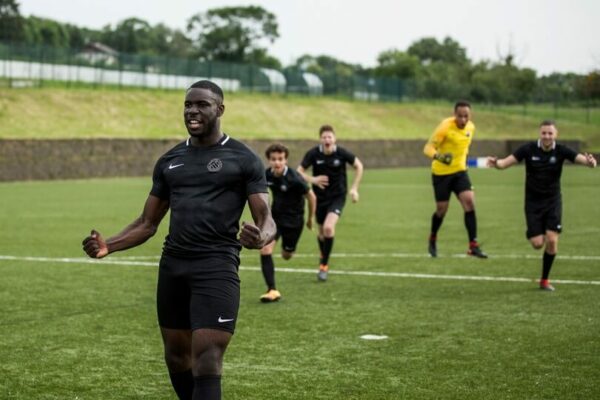 One of the best intensive football camps in the world is in a little village in the mountains of Haute Savoie in France. The ICEF camp is an intensive  camp that offers kids from France and the world over to come and improve their football skills in training facilities that almost match professional clubs.
The football camp takes place on the premises of the ICEF's (the International Center of European Football) very own academy, a private training centre that hosts young players all year. Able to host 50 kids for each session, the camp is organised and coordinated by the expert coaches of Thonon Evian Grand Genève, a football club currently in the third division of French football.
However, it aspires to quickly make it back to the top division in the country, where they used to be when the club was called Evian Thonon Gaillard.
Why is this camp so great ?
30 hours of football: 2 training sessions a day – a camp 100% focused on football !
Sporting facilities almost on par with professional football clubs:Two perfectly maintained grass pitchesSeveral latest generation artificial pitchesA state of the art gymA room for video analysis sessions
An intensive program, engineered for pre-season improvement
Tactical training sessions, individualised coaching, video analysis. It's all there, just like for the pros
The perfect setting, at the base of the Léman lake, in the French "hautes alpes": parents can also enjoy a fantastic holiday !
Bilingual coaches (French/English) and participants from all over the globe: ideal to challenge the best youngsters !
Interested in this French camp for your child ? Quickly find out more about the ICEF football camp.
Any questions about the camp? Contact us!

The Real Madrid Football Camp – Madrid – Spain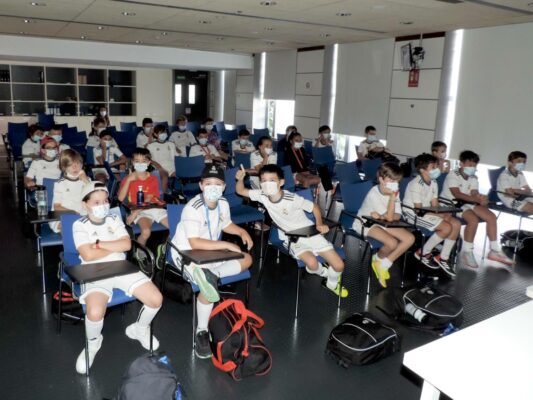 Impossible to leave out of any conversation about high performance in the world of football, Real Madrid is one of the very best clubs in the world. Understandably, their camps are also world class. Indeed, as well as an improvement camp open to all, Real also offers an intensive camp, 100% dedicated to football.
In regard to facilities, some of the training sessions will take place within Valdebebas, the official Real Madrid training ground, where their professional players train. The place is incredible: over 10 training pitches and even a 500 seat stadium (where the club played their league games in 2020/21 during the pandemic).
Why is this camp so great?
30 hours of football: 2 training sessions a day
Playing for a local team or club is a pre-requisite, to favour an even playing field
Collective and individual debriefing at the end of each day of football
Daily collective lessons aimed at learning the mentality of professional players: stretches, nutrition, mental work…
A tour of the legendary Santiago Bernabeu Stadium
Spanish (naturally) and good English
Interested in this camp for your child? Quickly find out more about the intensive Real Madrid camp
Any questions about the camp? Contact us!
The Soccer Inter Action football camp – Valencia – Spain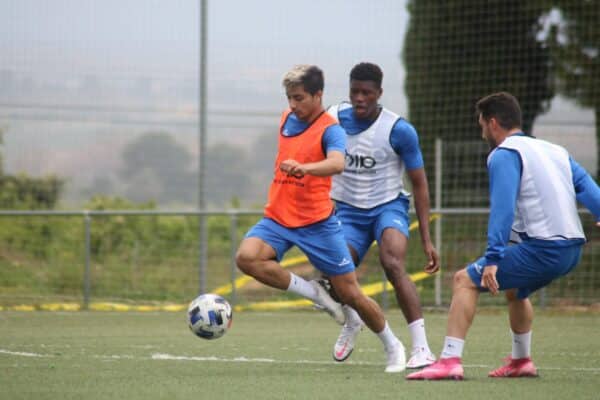 France has the ICEF, Spain has Soccer Inter Action. The private academy prides itself on its high level football and the environment of excellence it creates. The sporting facilities are brilliant, and the highly qualified coaches all have the same aim: help the players reach their potential!
The camp takes place in the south of Spain in Valencia, a part of the world that values football very highly and takes it seriously. Your child will be in the perfect place to improve and become the best footballer that they can.
Camp characteristics:
Languages: English and Spanish
When: during all the school holidays (Autumn, Christmas, Easter and Summer)
Length: 1 week
Full board only
For 10 to 21 year olds
Level: High performance
For girls and boys
Location: in the Soccer Inter Action centre (Valencia – Spain)
Why is this camp so great?
The camp is available for kids and young adults alike, accepting players between the ages of 10 and 21
Brilliant sporting facilities that are very conducive to the young footballers improving
Intense and high quality training sessions thanks to the UEFA certified coaches
The idyllic setting of Valencia in Spain
Interested in this camp? Find out more about the Soccer Inter Action football camp
The CF Montreal football camp – Montreal – Canada
Formerly known as Montreal Impact, the last camp on this list is run by CF Montreal, named after the Quebec city where it is located. The MLS (North American league) club stands out from its American opponents by offering an intensive version of their football camp in the summer.
Why is this camp so great?
30 hours of football: 2 training sessions a day
Training sessions with a specific aim, helping to improve on a particular criterion each day. Then, put to the test in matches
Professional coaches that are 100% invested in your child's progress and improvement
Perfectly French/English bilingual camp
Interested in this camp for your child? Contact us!
NOT FOUND WHAT YOU'RE LOOKING FOR?
Does your child not fulfil the requirements, or did you not find the camp perfectly suited to your child? No need to worry, the teams from Looking For Soccer are there to help you offer your favourite footballer's dream camp. Think about getting in touch.
Also consider having a look at some of other selections of the best football camps. For example, if your child is a girl, there is a selection of the best football camps for girls. Or are you looking for a football camp in France?
Or the best football camps in the world? You're going on holiday already and are now looking for the best football camps in England or in Spain? Whether you're looking for a summer football camp or any other time of the year, there is definitely a football camp that is ideal for your child.
Put your trust the teams at Looking For Soccer, the number 1 website for booking football camps.

Rate this
Rated 4.4 / 5 based on 135 reviews