Football Camp FC Porto – Residential – High Performance – Valence – Spain
The FC Porto High Performance Summer Camp is a great opportunity for your child to improve their football playing ability while having a great time in the beautiful sun of Valencia! Players will be coached with the winning mentality of FC Porto, one of Portugal's three best teams, having won the European Cup and the Champions League, and the campers are guaranteed to get better at football !
Is this football camp is fully adapted for your child ?
| | |
| --- | --- |
| | Spain |
| | Boy, Girl |
| | 7 days and 6 nights |
| | English, Spanish |
| | |
| --- | --- |
| | High performance |
| | Residential |
| | English, Spanish, Portuguese |
| | 12 to 21 |
Location
The camp takes place entirely in the SIA Centre in the east of Spain, just south of Valencia.
The climate is Mediterranean, meaning that the summers are dry and hot. These are ideal conditions to train in, since they will build up physical resistances faster and help the players last longer in matches, although it is imperative to hydrate properly while training.
The Valencian region has plenty of things to do and see. One of its main attractions are the golden beaches, which host hundreds of thousands of tourists every year thanks to their warm waters and inviting sand.
If visiting Valencia itself, an unmissable attraction is the City of the Arts and Sciences. It consists of huge structures that are very modern and will amaze you, with many translucent pools. Inside, the main attractions are  L'Hemisfèric, a planetarium and IMAX Cinema, and the breathtaking L'Umbracle, a botanical collection of plant species native to Valencia.
Accomodations
If you choose the full board package, the SIA Centre is also a premium residence. All rooms have Wi-Fi, heating and air conditioning and will be furnished with a closet and study desk.
Cleaning and laundry services can be acquired, and there are common room areas for the campers to enjoy themselves as a team, with televisions, games consoles, billiards tables and terraces that are perfect for group bonding.
As stated before, the Centre is home to football players all year round, so if anything was lacking previously, it will have been signalled to the relevant staff members and will have been rectified.
Sport Facilities
The SIA Centre has top class facilities designed to be the home of many athletes. There is one natural grass field that complies with FIFA measures for international competitions, one small natural grass field for more technical training as well as keeper training and one artificial turf that can be either an 11v11 pitch or two 8v8 pitches, with the latest in artificial field technology.
As well as this, there are seven locker rooms, with some divided by gender, a medical clinic, a physical therapy room with massage tables and a gym for cardio training. All the necessary sports equipment such as cones, walls, hurdles and more will be provided and are mostly brand new.
This centre is home to athletes all year, and has been specifically designed for exactly this kind of camp, so the sporting facilities are all state of the art and very high quality.
Catering
Nutrition and a healthy diet are essential for any athlete and it is no different for this camp. Rice is a staple part of the Valencian diet, being a main component of the world famous Valencian Paella, and all the food is both healthy and tasty.
It is worth remembering that Spanish people tend to have meals later than other parts of the world because of the temperature, often eating lunch as late as 2pm and having their evening meal sometimes as late as 10pm.
Both vegan and vegetarian diets can be catered to, you simply need to communicate this to the camp beforehand. The Centre endeavours to cater to all the teams with individual attention and privacy given to each.
Security
The campers will be staying in the SIA Centre for their whole stay, which greatly reduces any potential security risks. There is security outside the centre so there is no reason for anyone other than campers, athletes and staff to be present within the facility.
Even so the campers will be under constant supervision during the day and will be able to easily find a staff member if they encounter any sort of problem at any time of day.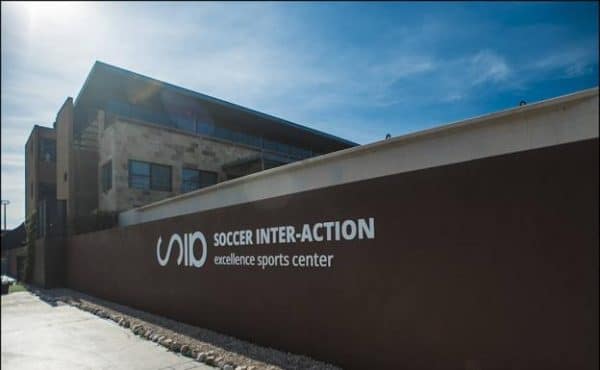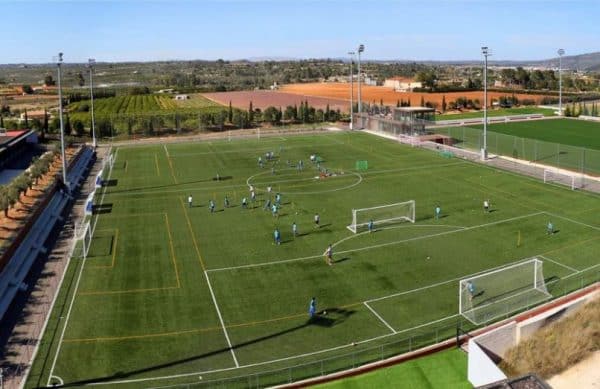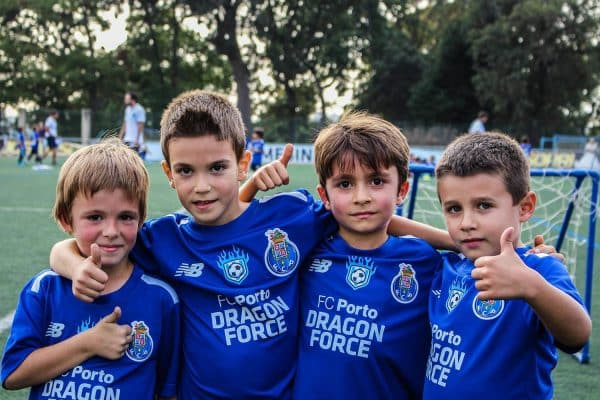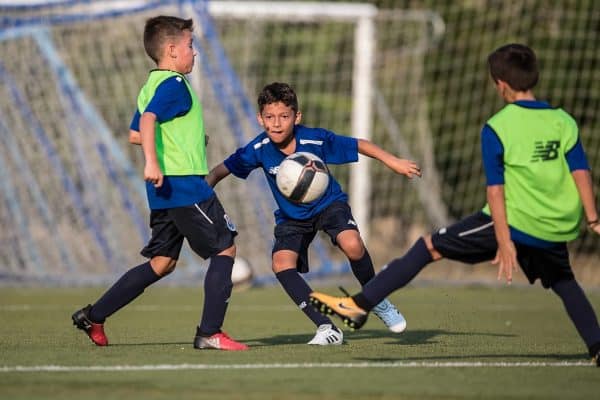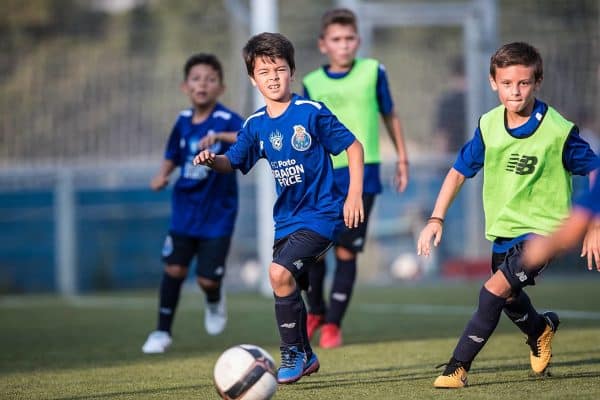 Football camp program
It is a football clinic for boys and girls of all levels with a well-studied methodology to guarantee the physical and tactical development of each trainee.
It is a course with a double vocation : football with a large number of hours of training but also cultural with the presence of language classes.
What is included
| | |
| --- | --- |
| | Training sessions led by FC Porto coaches and in the FC Porto way |
| | Languages classes |
| | Full board |
| | 6 night in the premium residence SIA |
| | Official FC Porto Kit (2 kits with t-shirt, pants and socks) |
Training
The camp is completely focused on improving its participants' level of football and many methods are employed towards this end. Technical training is the most common method and will consist of various drills and games to improve one skill in particular.
One such game is the rondo, which most professional clubs use as either a warmup or an actual exercise. Players make a circle with usually one or two players in the middle and have to pass the ball around without losing it. It is a valuable exercise that improves the touch of each player, their decision making, their short passing and it is often a favourite exercise because skills and tricks are encouraged during this time and it is quite a free form of football.
Physical training will also take place in order to develop the body of the players, which can be a little boring but regardless, it is a crucial part of training, especially for young players.
Tactical sessions are also organised, in which the principles of the game are taught. These are invaluable sessions where the campers can learn a lot about football as a team sport and is as useful for the younger players as the older ones.
Language class
Full board language classes will be held daily, in English or Spanish, so that campers can also learn and improve their language skills throughout their stay. This will be done in an organic way anyway, since several languages will be spoken at camp, and the language classes are an opportunity to consolidate what the campers will learn on the field.
Typical Day
Voici une journée type d'entrainement :
9am: Technical activation
9.30am: Shooting
10am: Tactical coaching
10.30am: Snack
11.30am: Video analysis
12pm: Competition
1.30pm: Lunch
3pm: Nutrition / Psychology workshop
4pm: Language class
5pm: Passing
5.30pm: Competition
Arrival
Interns must arrive at the camp on the first day of the course.
Departure
Children must leave the SIA Center on the day the course ends unless they subscribe to the extra night option, details of the schedule will be provided after registration.
Practical information – transport
Address: Carretera CV590, km 51, 46810, Valencia, Spain
Accessible by public transport : No
Accessible by car : Yes
Closest airports: Valencia Airport, also called Manises Airport; Alicante Airport
Closest train station: Valencia Joaquín Sorolla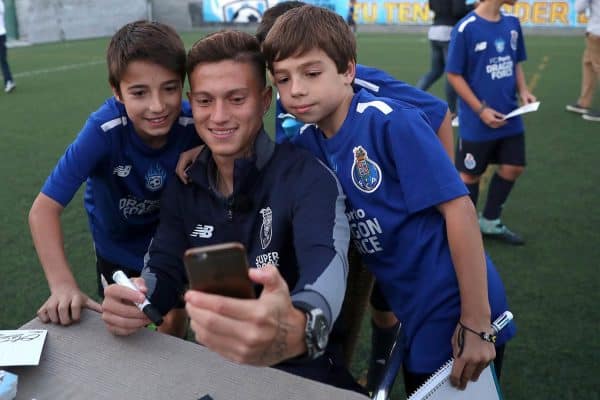 About the football Camp and the club
The Football InterAction Academy in Valencia was set up with one goal in mind: finding, nurturing and developing quality football players and coaches, of any age and gender. It has been designed for exactly this purpose, and even has a full time youth team called the FC Porto Dragon Force, a project started by the club to produce and help the growth of youth players.
The Academy, from the one week campers to the permanent resident, does its best to instil the values and philosophy of FC Porto while developing their physical, technical and tactical ability. The high performance camps, available for twelve to twenty-one year-olds, are the opportunity to get a taste of what it is like to train at a professional location and at a professional level.
The club has always been interested in creating some of the best players in the world and has seen some of the best coaches and managers modify and improve the famous Porto methodology and philosophy. Rui Faria and André Villas-Boas are two examples of this, but it is José Mourinho who is undoubtedly the best manager the club has ever seen.
The controversial figure dubbed himself as the Special One in an interview when he took over Chelsea in 2004 and there were many who laughed at the Portuguese manager. They were not laughing when he won the Premier League in his first two seasons at the club and he has cemented himself as one of the most legendary and arrogant managers ever.
He has won the league in every country he has managed in, from Portugal to England to Italy to Spain. He became the best through tactical prowess, adaptability, innovation when it came to formation, and finally through individual player management.
His teams almost always play with three central midfielders, which might seem normal today, but was truly an innovation that allowed him to win many trophies when he first implemented it, especially the Champions League with Porto, who undeniably had less talented players than most of their rivals but still won thanks to tactical superiority and team solidity.
The camp will do its best to present Porto's vision of football and give the players the tools to implement it into their own football. While it is most certainly the chance to improve at football, it is also the chance to live like a football player, something that few people truly get to experience.
It is also the chance to have a fantastic and active holiday with other players of similar age and interests, with coaches and staff always around to help and make the experience as pleasant and enjoyable as possible !
Other football camps for this club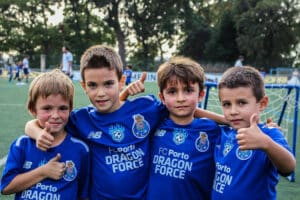 FC Porto
Other football camps in this country
Spain
Most booked football camps