What are the best soccer holiday camps for girls in 2024?
Holidays can be quite stressful : a lot of pressure is put on them and it can be difficult to deliver on the high expectations of your children. Sometimes these expectations are wildly unrealistic. With all this in mind, did you know that there are options that are almost completely stress free while still fulfilling your child's wildest dreams? Some of the biggest soccer clubs in the world organise soccer camps, and your child will have the time of their lives while you do not have to worry about a thing.
Although soccer has been traditionally been dominated by men, women's soccer has become more and more popular in recent years. This rise in popularity has been particularly prevalent in the United States, where the top stars like Megan Rapinoe and Alex Morgan are household names. It is easy then to understand why clubs are taking a much bigger interest in women's soccer and in developing young female talent. Now, some camps are designed exclusively for girls. So If your daughter is a soccer fan, why not let her emulate her favourite players by gifting her a holiday soccer camp at one of the top clubs in Europe ? To help you pick the right camp, we have made a list of the five best soccer holiday camps for girls.
The first camp on the list is exclusively for girls. The players will stay in university accommodation that will be their home away from home. A short 20 minute bus ride away are the sporting facilities, which are second to none. Since this is where the young Manchester City players are developed, no expense has been spared. There is even a full sized indoor pitch that will likely provide the girls with a unique experience.
The training program is intense and designed to help the players improve as much as possible. Both the women and men are challenging for the title in their respective leagues, and the drive for success will be inherent to the camp. It is also a great chance for the campers to meet people from all over the world, and they will be forming friendships off the pitch as well, during evening activities or at the pool or beach. What more could any young soccer fan want for a week ?
What makes this camp one of the best
High quality accommodation, sporting facilities and catering
A well thought out schedule, focused on improving the girls as soccer players
A chance to explore the Etihad Stadium
The option to add English language classes for a soccer camp with an educational twist
Interested in this soccer camp ? Find out more about Manchester City soccer camp for girls

Real Madrid is one of the very best soccer clubs in the world and some of the best ever soccer players such as Cristiano Ronaldo, Ronaldo Nazario and Roberto Carlos have graced Madrid with their soccer . However, the same emphasis has not been put onto women's soccer , but that is starting to change. In 2019, the process of acquisition of a female team started for Real Madrid and in July 2020, Real Madrid Femenino was founded.
Now that the female team has been created, the club needs to start developing its very own female talent. You can be assured that a lot of effort and organisation will be put into making sure that the young players develop as much as possible. However, this is still a holiday camp, and holiday activities will still be on offer! Indeed, the campers will have time to go for swims, for fun group activities as well as other free time to make sure they relax. Anyone going to this camp has a lot look forward to!
What makes this camp stand out ?
Training sessions and accommodation within the same modern campus to minimise wasted time and maximise enjoyment
Highly qualified coaches specialising in developing young players
A variety of other activities on offer like swimming, tennis and lots more
Interested in this soccer camp ? Find out more about Real Madrid soccer camp for girls
As the most popular tourist destination in the world, the PSG camp may be one that you want to personally drop your daughter off at so that you can have a week in the "City of Love". The museums in Paris are some of the best in the world, and there is always something to do. The Eiffel Tower is a must visit, at least to get an idea of its size, and so is the Arc de Triomphe.
The camp takes place in the CREPS, one of the best sport centres in the whole country, where many international athletes train over the year. It follows that the sporting facilities stand out and there are few better places to train anywhere. Combine this with highly qualified coaches eager to teach the art of soccer, fun activities and visits such as the day at Disneyland Paris, and your daughter has herself a week she will never forget.
Why is this soccer camp worth it ?
Training sessions in the best environment possible: excellent facilities and coaching staff
The option of introductory French classes
A day at Disneyland Paris
The opportunity to make friends from all over the world
Interested in this soccer camp ? Find out more about Paris Saint Germain soccer camp for girls

FC Barcelona have created a soccer camp where the girls will be completely immersed in the Barcelona way of life. This way of life includes being successful but also being successful in the right way, playing flowing and attractive soccer. Soccer is not a sport in Barcelona, it is an art.
On top of the soccering side of things, the FC Barcelona camp has many other advantages. Unless you are very unlucky, the weather should be ideal for both soccer and a holiday, the food in Spain is absolutely delicious and tends to be light and fresh ingredients, which is ideal for training afterwards. Cultural visits are also emphasised, with schedule packed full with trips to the Sagrada Familia, the Parque Guel and Port Aventura, a theme park, to name a few.
It is a mixed camp but it has been designed with both girls and boys in mind. Your daughter will have the opportunity to make lots of friends, which will make activities like playing soccer on the beach even more fun. What better place to send your daughter on holiday ?
What makes this camp great ?
A schedule full to the brim with fantastic activities on top of all the soccer
Maximum of twelve players per coach to make sure each player gets individual help and feedback
2 Barca Academy training kits
Interested in this soccer camp ? Find out more about FC Barcelona soccer camp for girls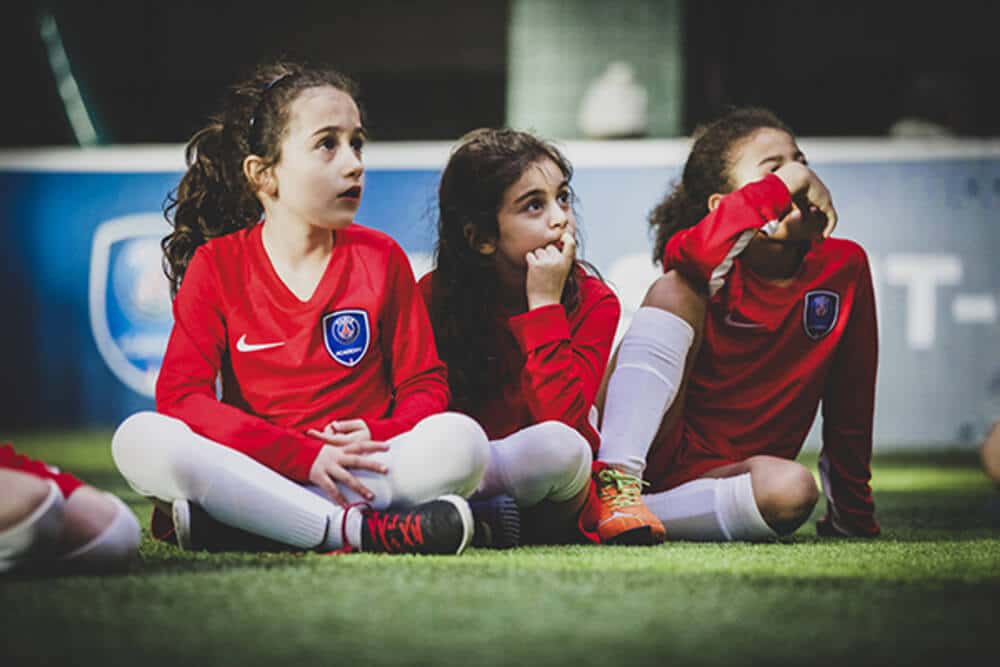 For the last camp on the list, we go across the Atlantic Ocean to the United States, who are the best international women's soccer team. This is the other camp exclusively for girls, and it takes place at the North Central College. A college makes a lot of sense for a football camp because it has everything a camper could need: accommodation, catering, and sports facilities.
The camp has been organised to try and help the girls improve as much as possible, from their soccering skills on and off the ball to their physical attributes to their mental strength and finally to their ability to play in a team. Chicago Fire also includes workshops in their camps, a more relaxed place to foster their progress. The camp has almost everything, it is now just missing your daughter.
Why is this camp exceptional ?
An ideal setting for a soccer camp with everything the girls could need
A hardworking team of coaches experienced in helping young players take their skills to the next level
The potential chance of watching a game at the Soldier Field Stadium and meeting the players (depending on availability)
Interested in this soccer camp ? Find out more about Chicago Fire Soccer camp