Book the best soccer camps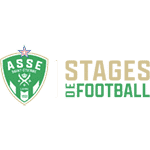 Soccer Camp
ASSE - Saint-Etienne
Is your kid obsessed with soccer and has a favorite player that they always pretend to be in the backyard ? Do they love playing soccer as much as they possibly can ? Then consider booking them a spot at an AS Saint-Etienne soccer camp.
Filter camps
football camps matching
Why do an AS Saint-Etienne soccer camp ?
As they have not recently been as successful, a lot of newer soccer fans do not know this, but Saint-Etienne are arguably France's biggest club. They have a lot of history, and have won France's most prestigious league, the Ligue 1, ten times, more than any other club. They are also the only club to have all their home games in a single season.
Saint-Etienne also offers value as a tourist destination. It was made a UNESCO City of Design and Member of the Creative Cities Network, which means that it is filled with original architecture and innovative and creative ideas. Le Corbusier, a famous architect, is a great example of this. His designs rejuvenated old techniques by incorporating them into more modern houses, Firminy Vert is well worth visiting.
It is also within driving distance of Lyon, the Alps and the South of France. This makes it a great place if you want to drop off your child for a week's camp while you have your own vacation.
AS Saint-Etienne, a fiery club
The fans of Saint-Etienne are very passionate about their club, and soccer is very important for the city. Their rivalry with the Olympique Lyonnais is possibly the second biggest rivalry in France after the Marseille PSG rivalry, and it rarely disappoints. Both clubs are among the best supported in France and when they face each other, it is always hotly contested.
AS Saint-Etienne was founded in 1933, so they have been around for a while, and know what it takes to become the best. As the club with the most league titles, they have an important record to protect and will not want to be overtaken by another club. It is the ideal place for a soccer camp.