Chicago Fire Soccer Camp 2021 – Girls – Residential – USA
Would you like your son to experience the best soccer camp that Chicago has to offer? Would you like them to receive the next step in their development thanks to the Chicago Fire coaches and experience what being a soccer player requires on a day-to-day basis? All this and more is available at the Chicago Fire Girl Camp !
Is this soccer camps is fully adapted for your child ?
Others camps of this club
| | |
| --- | --- |
| | Naperville, United States |
| | Girl |
| | 4 days and 3 nights |
| | N/A |
| | |
| --- | --- |
| | All levels |
| | Residential |
| | English |
| | 12 to 16 |
Question ?
Click here for
enquiry form
Location
The camp takes place at North Central College in Naperville, Illinois. The weather is ideal for both the soccer camp itself and a sightseeing holiday, usually being in the high twenties centigrade. It is perfect for soccer because injuries are made less likely and it is a great temperature for physical development.
Even though there is a lot to do in Chicago, even its suburb of Naperville provides more than enough tourist attractions. The Naper Settlement is a fascinating look into what life was like during pioneer times, with many staff members in costume and character.
The Morton Arboretum is the place to go for nature lovers, with over 4000 plants on display. It is ideal for families, with hiking, driving and cycling trails as well as an interactive children's playground set in a garden and a maze that can be enjoyed by all members of the family.
Accomodations
For accommodation, players will be staying in double rooms in student accommodation at the college, a short walk away from the dining halls and the soccer fields. Having one roommate gives the campers the chance to make a close friend while still having some privacy. The rooms are all air conditioned, and the campers are responsible for all their pillows, towels and sheets.
Sport Facilities
Because the camp takes place at the North Central College, this means that almost any sporting facilities that you can think of are located somewhere in the campus. It has a softball field, a baseball field, tennis courts, a heated swimming pool, a gymnasium and much more.
More importantly, there is also a full sized soccer field with two soccer goals that will host the training sessions. It is in close proximity to both the dining halls and the residence halls, and it is a natural grass surface, the best surface for soccer.
Catering
All the meals will be had at the Kaufman Dining hall. Nutrition is extremely important for all athletes so to make sure that the campers are receiving enough calories, all meals will be buffet style and all you can eat. Coaches and staff will encourage them to eat healthily but the most important is that they eat enough to develop physically.
Security
Everything that the campers do will be within the North Central College and everything will be within walking distance. This means that there are no security risks since they will always be in the same place where only authorised people are allowed to be, and there will be no need to take public transport, so there is no cause for concern at all.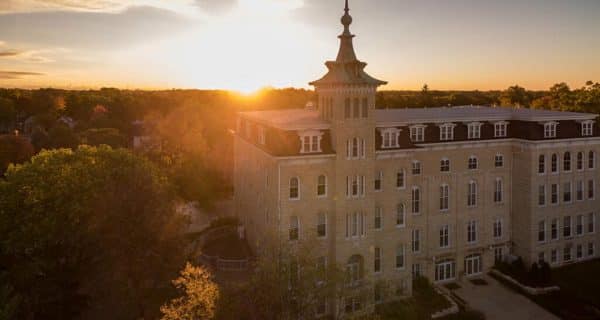 Soccer camp program
This day camp is perfect for girls who want to develop their soccer skills. It is a very complete program that will suit all levels and positions.
What is included
| | |
| --- | --- |
| | Training & Workshops |
| | Interactive seminars with Chicago Fire Staff |
| | Full meals included |
| | 3 nights at North Central College |
| | 1 ticket to see a Chicago Fire MLS game |
| | Meeting with players and guests |
| | 1 Adidas kit (Jersey, shorts and socks) |
Training
The days usually begin with a ball control session. Ball control is an opportunity for players to work on their technique and ball control. At each exercise, group and individual briefings are provided to help the players and give them tips and tricks. The coaches supervise up to 12 children per group, this is a good ratio which means that each player will have a personalized feedback and their progress can be properly followed throughout the camp. The coaches are all highly qualified and have already worked with professionals. They will be able to transmit their experience to the children and make them dream with pro anecdotes. During the training sessions, in addition to the technical aspect, tactical training is not neglected. For example, when working on passing or shooting, technicality is essential, but knowing when and to whom to give the ball is essential.
Excursion
During the week, the children will have the chance to watch a game of their favorite team at Soldier Field Stadium. An unforgettable moment during which they will also have the privilege of meeting some of the players and personalities that have marked the history of the club.
Arrival
Arrival, campers should aim to get to the camp between 1.30PM and 2.30PM. There is a training session on the first day from 4PM so it is important to arrive at the right time to ensure that you do not miss out on anything. 
Practical information – transport
Address: 30 N Brainard St, Naperville, IL 60540, United States
Accessible by public transport: Yes
Accessible by car: Yes
Closest airport: Chicago O'Hare International Airport, Chicago Midway International Airport Closest train station: Naperville's Train Station
About the soccer Camp and the club
The Chicago Soccer Camp is packed with soccer, activities and education. It has run once before and the organisers have made sure to learn lessons from the first camp to make the next edition the best that it can be.
Days start early at 7AM which is important to build motivation and instil discipline. The campers then have breakfast and will then usually have a ball mastery session and a training session in the morning. Ball mastery is the chance for the players to work on their technique and control of the ball, and the coaches will teach the players new tricks as well as helping the players perfect their ability.
It will be a maximum of twelve players for every coach which means that each player will have personalised feedback and their progress can be properly monitored throughout the camp. The coaches are all highly qualified and have experience conducting training sessions with top quality players, and will be able to pass on their knowledge to the players.
The training sessions themselves will focus on improving the players tactical understanding of the game as well as various drills like passing and shooting. These will happen twice a day and by the end of the camp, the players will either have noted their own progress or will have the tools with which they will be able to develop themselves.
There will also be workshops and guest speakers so that the campers can be educated on many subjects, from diet to tactics to physical questions. Interactive seminars are the ideal opportunity for the players to learn about soccer from highly qualified coaches with individual support, an opportunity that is not offered at all soccer camps.
The whole camp is based on a simple objective described by the acronym PASS: perform, advise, support and serve. Firstly, Chicago Fire wants to help the campers perform to the best of their abilities Secondly, the coaches are there to advise the players about soccer, nutrition, sleep and any questions the campers could have. Next, they want to support the campers by providing a foundation for improvement. Finally, they want to serve by providing an excellent camp and camp program!
Other soccer camps for this club
Other soccer camps in this country
USA