PSG soccer camp – Residential – Geneva – Swiss
This Paris Saint Germain Academy Soccer camp is the exclusive opportunity for your child to have the footballing holiday of a lifetime in one of the most picturesque settings in the world, the Alps.
The camp includes physical and mental preparation, individual and team focus, tactical and technical sessions all infused with PSG's elite winning mentality. This is a unique experience that any soccer fan would adore.
Is this soccer camps is fully adapted for your child ?
| | |
| --- | --- |
| | Publier, France |
| | Boy, Girl |
| | 6 days and 5 nights |
| | N/A |
| | |
| --- | --- |
| | All levels |
| | Residential |
| | French, English |
| | 13 to 17 |
Location
The Camp takes place completely in the Alps near Lake Geneva and Evian. The mountains are picturesque and the landscape can feel surreal at times, especially for those who are not used to seeing it. Some raise concerns about training at high altitudes, however research has been done into exactly this topic, and training in a place like ICEF can be extremely beneficial, leading to an increased production of red blood cells.
The entire camp has been set up so that everything is perfect for player development and improvement, and it is a unique and refreshing experience to spend two weeks here.
Accomodations
Participants will stay in double rooms with one other player. High speed internet is available throughout the centre and there are multiple lounge areas with different purposes such as the media room, the video game room and the study room.
Training kits are cleaned after every game and training session by the staff who are a team of dedicated professionals hoping to make those staying at ICEF as comfortable as possible.
As well as this, the staff are multilingual and the multiculture environment created by the staff and the players who can come from all over the world can be eye opening for younger players. The atmosphere is very friendly and there is a sense of solidarity from everyone.
Sport Facilities
The ICEF stretches over two and a half hectares of land and there are multiple 11v11 natural grass pitches as well as several 11v11 all-weather, artificial grass fields, including a heated turf which is an unusual luxury.
All the dressing room facilities are brand new and they are all top of the line, ideal for preparation and bonding as a team. There is a health centre on site with trained medical staff and even a physical therapist, so the camp is fully equipped to deal with any physical problems that a player might experience.
A fully equipped gym with cardio, strength and recovery areas is present in the Performance Centre. Money does not tend to be a problem for PSG and the cost of building the whole camp was very high. It has resulted in truly feeling like a professional experience, and encourages the participants to perform, train and work better and harder than they usually do.
Catering
The correct nutrition is indispensable for a top class athlete and the ICEF is very much aware of this. Hard work means nothing if the diet does not back it up because the body needs the nutriments to properly build up muscle and recover. The chefs cook organic meals for the participants that contain everything they need to improve the most.
Any dietary restrictions or allergies can be allowed for as long as you warn the camp before coming.
Security
The camp is relatively isolated in the Swiss camps and there is no reason for anyone other than camp participants and staff to be in the ICEF.
On top of this, there is 24 hour supervision and security cameras throughout the camp, so there are virtually no security doubts whatsoever, with absolutely no reason for the participants to be in any danger.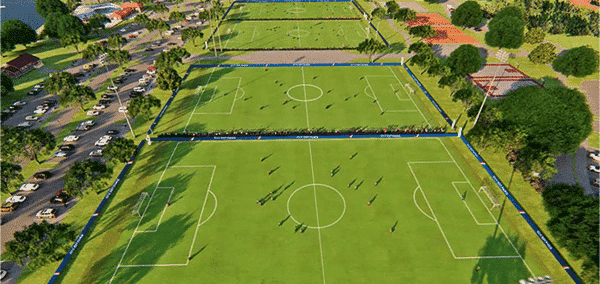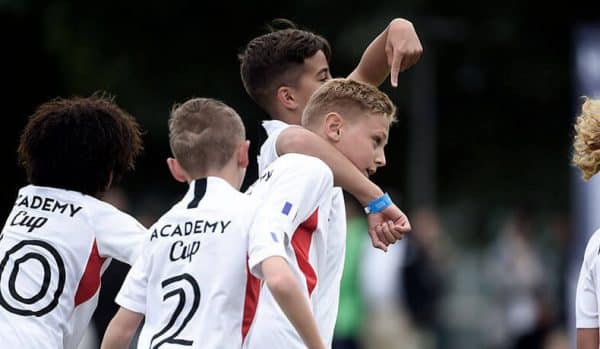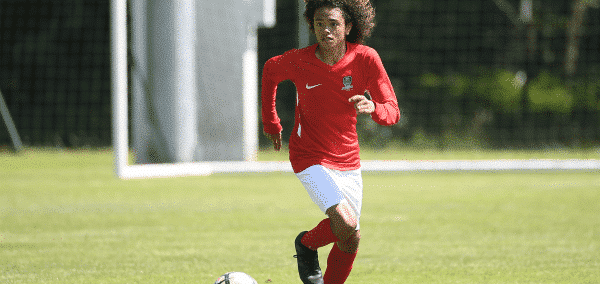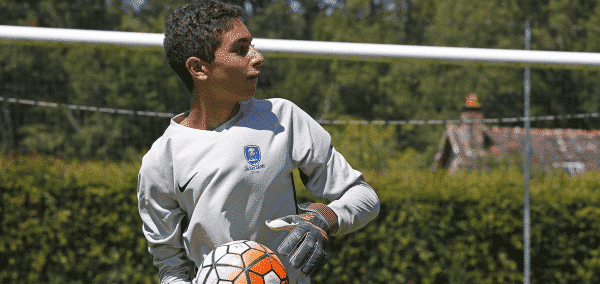 Soccer camp program
This Residential Camp is perfect for competitive soccer players who want to improve all aspects of their soccer from technical and physical ability to tactical understanding to mental strength. Games are organised in which players can show off the new skills they have learnt and compete to win the most possible matches. On top of this are top class facilities, highly trained coaches and delicious and fresh meals!
What is included
| | |
| --- | --- |
| | 2 tactical-technical training sessions per day |
| | 5 nights in a newly renovated double room with air conditioning |
| | Supervised access to football amenities and boarding facilities |
| | 1 physical preparation session per day supervised by an official International Center of European Football trainer |
| | Physical care sessions delivered by an official International Center of European Football physiotherapist (if necessary) |
| | 1 video analysis session per day |
| | 2 individualized briefs from the coach per day including mental preparation |
| | Nike training kit |
| | 15 Fresh and balanced meals prepared on-site by sports nutrition professionals (breakfast, lunch, dinner) |
| | Healthy snacks |
| | 24-hour surveillance and security |
| | A certificate of participation and performance awards |
| | Access to multiple fun activities, video games, team games |
| | Access to professional laundry service |
Training
While all PSG soccer camps around the world follow a program specifically designed to improve as a footballer, the Geneva camp takes this a step further by giving a lot of importance to off the pitch work, much more than most football camps. Every day will start with mental conditioning and a coach brief. Mental conditioning is the process of training your mind to modify your thoughts, attitudes, and beliefs so that a winning attitude becomes second nature. Almost every top level athlete has massively impressive mental capacities, and self-belief is so important in football just to have the confidence to try unexpected things. Putting emphasis on this is proof of the elite mentality of PSG. Winning is the only possible goal and if mental conditioning works properly, then it will allow the players to keep pushing themselves in order to be the best they can be. Of course, mental conditioning is nothing without training sessions. These are conducted by by experts in player development, made available by the International Center for European Football, and official Paris Saint-Germain Academy coaches. The sessions aim to improve technique, fitness and strength through drills and games. The coaches have a clear idea of what each session is trying to improve which allows them to properly gauge each player's improvement. There are also tactical sessions, where the players will work on positioning, teamwork and on their vision. Similarly to speed, many assume that you are either born with vision or not, but nothing could be further from the truth. Practising will certainly improve vision and sometimes players who have never been taught this improve monumentally thanks to this, becoming a different player entirely. Video analysis sessions also take place often. These are a newer development in football but have proven very effective for a number of teams and managers over the years who will meticulously pour over footage to see how to improve and where their team is lacking. This is the exact same logic as in this situation however with a bigger focus on the individual, although there will be analysis of team movements as well. It is important to point out that this camp is very football heavy. There are no theme park or cultural landmarks to visit and football is at the centre of everything that happens, which for many soccer crazy kids is the ultimate dream. There will still be free time for the participants to play video games, read or having fun in lounge areas as well as a selection of indoor and outdoor activities. Team building activities will also take place in order to build cohesion in the groups and hopefully the participants will form strong friendships. If any player has a niggle or a minor injury, time is made for physical care and preparation. All in all, this camp is targeted at 7 to 20 year-olds who adore football and would choose soccer over anything else.
Typical Day
7:30am Breakfast and shower
08:30am Mental conditioning and coach brief
09:00am Tactical / Technical training
11:00am Shower and coach brief
12:00pm Lunch and rest in rooms
2:00pm Video Analysis or physical preparation or care / physical therapy
03:00pm Tactical / Technical training
04:30pm Shower and Snack
05:00pm Coach brief
06:00pm Video Analysis or physical preparation or care / physical therapy
07:00pm Free Time (use of lounge areas, video games, outdoor and indoor activities)
8:00pm Dinner and fun team building activities
10:00pm Bedtime
Arrival
Participants should aim to arrive on the Sunday before 5PM as the camp will begin then with kit handout and room check ins. Further information about arrival will be provided when you book the camp. If you are flying to the camp, a transfer from the airport can be organized for an additional cost that will be communicated to you when you ask for it. There will be staff from the camp with a recognisable sign outside of departures. In some cases a few students are transferred at the same time and other times it is individual.
Departure
Departure will be Friday at the end of the certificate ceremony. It's possible to leave Saturday morning
Practical information – transport
Address : Domaine De Blonay, 74500 Publier
Accessible by public transport : No
Accessible by car: Yes
Closest airports: Geneva Airport and International Lausanne Airport
About the soccer Camp and the club
Other soccer camps for this club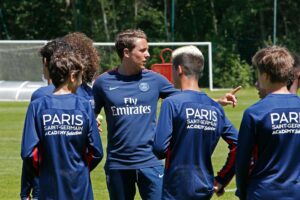 PSG
Other soccer camps in this country