New York Red Bulls Soccer Camp – Residential – Rider University – NJ – USA
Would you like your child to have the time of their life all the while meeting people from all over the world and seriously improving their soccer? New York Red Bull Soccer camps can offer this thanks to their fantastic facilities, their perfected program and their hand-picked coaches that are specialised in youth development with high level qualifications. Why not take this chance to give your child the holiday of a lifetime?
Is this soccer camps is fully adapted for your child ?
| | |
| --- | --- |
| | Lawrence Township, United States |
| | Boy, Girl |
| | 5 days and 4 nights |
| | N/A |
| | |
| --- | --- |
| | All levels |
| | Residential |
| | English |
| | 7 to 15 |
Question ?
Click here for
enquiry form
Location
The campus is within driving distance of both Philadelphia and New York, located in Lawrenceville, New Jersey, so it is the ideal location for anyone living in these areas.
Accomodations
This camp offers children a high standard of accommodation. The rooms are fully equipped and the children will feel very well.
Sport Facilities
Rider University promises state of the art facilities both on and off the soccer fields as well as a challenging and supportive environment for campers to enjoy their holiday and improve their soccer. There are full sized artificial turf fields as well as full sized grass fields.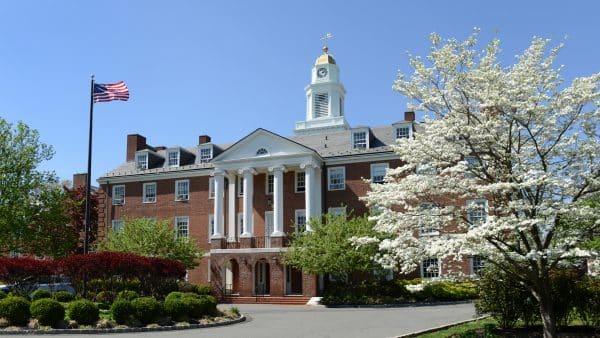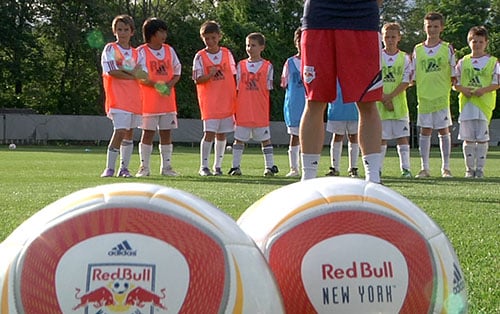 Soccer camp program
This boarding school is perfect for boys and girls of all levels who want to progress technically, physically, mentally and tactically. Rider University has ultra-modern facilities for both sports and community life. Players will be in a stimulating environment where they can enjoy their vacations but also work on their soccer.
What is included
| | |
| --- | --- |
| | 2 training sessions per day |
| | Highly qualified coaches from Elite Level RedBull Youth Development |
| | 4 nights at Rider University Residence |
| | 3 meals included |
| | Jersey and shorts Adidas |
| | Ball et Tshirt training Adidas |
| | 1 ticket for a NewYork RedBull soccer gam |
| | Possibility to meet the players |
| | Activities: swimming pool, tennis, basketball |
Training
Trainings are undertaken by the expert coaches and have been developed meticulously. They will include drills intended to train one particular skill such as ball control, shooting, passing or dribbling and will be taught so that the campers know why they are doing the drill and what they can do to improve in future. In the afternoon, there shall be a second training session. While the morning one will focus more on technical ability, the afternoon one will focus on tactics. Players will learn about positioning, the role they should be playing for their team depending on the formation, how to use tactics to win soccer games and much more. This can transform a good player into a great player quicker than technical training, because a player who truly understands this side of the game does not even need to be particularly technically gifted. Strikers especially can be poor soccer players, but thanks to their understanding and reading of the game, they have a knack to find themselves in the right place at the right time, and that is enough.
Other Activities
After the second session, the campers will have an hour to either rest or participate in non-soccer activities. This could include going to the beach or the swimming pool, tennis or even basketball, and are a great way to build team harmony and make sure that the kids don't get burned out.
Practical information – transport
About the soccer Camp and the club
The New York Red Bull soccer camp is a unique opportunity for players to get advanced and specialised coaching, and to be pushed mentally, physically, technically and tactically further than they have been before.
There are not many camps that offer this in the United States, and New York Red Bull is hoping to develop players from a young age, something that is common across Europe but not yet the case in the US. This is actually part of the reason that American players perform less well on the international stage and in European leagues.
The only American players playing in top clubs in the world, such as Christian Pulisic for Chelsea, tend to have been developed in Europe rather than the US since they are more willing to develop young players, and this camp is the chance to give your child a competitive advantage over other young American players.
New York Red Bulls have shown a true desire to develop players in recent years, setting up the first cost free program in the MLS that provides a learning environment for youth players in the New York metropolitan area.
This shrewd approach to player development has already started to play dividends. The New York Red Bulls II, a reserve team set up in order to increase player development in 2015, managed to defeat Chelsea by 4 goals to 2. This was admittedly in a friendly but is still a good sign of things to come.
Other soccer camps for this club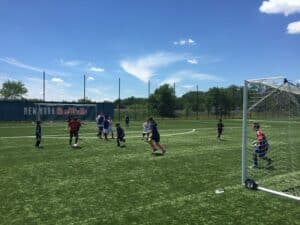 New York Red Bulls
Other soccer camps in this country
USA