Impact Montreal Soccer camp 2021 – All levels – Residential – Montreal – Canada
Would you like your child to spend an incredible soccer filled week influenced by one of Canada's very best club's philosophy? Do you want them to participate in advanced training sessions in order to improve their soccer in a technical, tactical and physical way as well as meeting other players from all over the globe? If so, the Montreal Impact soccer camps are the ideal choice for you!
Is this soccer camps is fully adapted for your child ?
| | |
| --- | --- |
| | Montreal, Canada |
| | Boy, Girl |
| | 7 days and 6 nights |
| | N/A |
| | |
| --- | --- |
| | All levels |
| | Residential |
| | French, English |
| | 9 to 15 |
Question ?
Click here for
enquiry form
Location
The camp takes place at the Collège de Bois-de-Boulogne which is a public pre-univeristy situated in Montreal. Temperatures in the summer in Montreal are generally around 22 degrees centigrade, which is ideal for playing soccer. It is warm enough to makes injuries less likely and still cool enough that they are unlikely to suffer from dehydration or excessive heat.
Montreal is a vibrant city, and it is filled with beautiful attractions and fun activities. Mount Royal, from which the city gets its name, is 692 acre city park which offers an incredible combination of nature and and the city through lovely views and pathways. Street fairs are very common in Montreal and are a fantastic way to get a feel for the culture and have a chance to buy local products and produce.
As well as this, you can wander through Old Montreal to experience its European roots and to explore the city's finest restaurants and historic landmarks. Finally, the Underground City is an unmissable attraction. It is over thirty kilometres of underground passageways from restaurants to shops to anywhere else, and it is heated in the winter and air conditioned in the summer.
Accomodations
The players will be staying in shared rooms of up to four people, with boys being put with boys and girls being put with girls. The College de Bois-de-Boulogne has been hosting students for years, and is a bustling and alive place all year round, and there are plenty of activities available on the campus to make sure that the campers don't get bored. An example of this is the outdoor beach volleyball pitch!
Sport Facilities
The College de Bois-de-Boulogne's sports facilities are exactly what you would expect from this sort of soccer camp. It has a synthetic turf soccer field which is a more than adequate setting for all the training sessions.
Synthetic turf has its disadvantages but for training sessions, it is without question superior to most grass pitches. It does not worsen despite being used every day and eliminating all possible bad bounces means that it is easier to practice technical skills.
As well as this, there is a gymnasium for indoor activities and even a swimming pool for those who fancy a dip in their downtime. All the sporting facilities are of a guaranteed quality and are crucial in providing a positive experience for all the campers.
Catering
All of the meals at the camp are prepared in house at the Collège de Bois-de-Boulogne cafeteria. It is crucial for athletes of any age or level to have a balanced and healthy diet as this helps with recovery, with muscle development and even with things that people do not link to nutrition such as sleep. The cooks work hard to provide these balanced and yet tasty meals, and take pride in their work in the kitchen.
Security
The Collège de Bois-de-Boulogne is a busy place, with over 2500 students and most of its outdoor facilities are open to the public as well. However it also has over 450 staff members that make sure that everything runs smoothly, and the camp staff will always be supervising the children, and being in range if any issues arise at any time. There are absolutely no security concerns to worry about.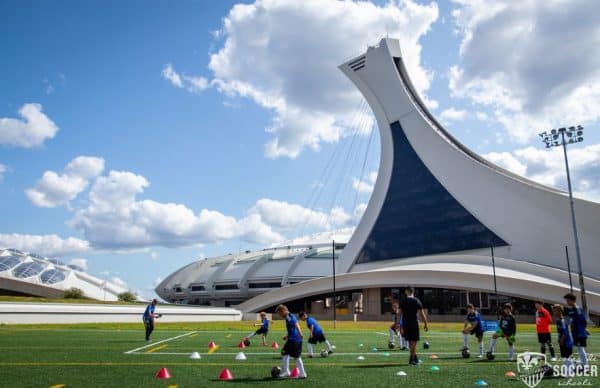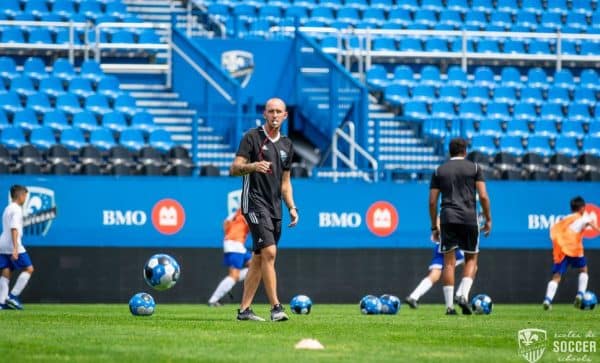 Soccer camp program
This full board soccer camp is perfect for boys and girls who want a week to develop their soccer skills while discovering a great city and a mythical club.
It is a very complete program with a soccer part but also an activity part.
What is included
| | |
| --- | --- |
| | 7 days training and activities |
| | Bilingual French and English coaches |
| | 1 official Soccer School ball |
| | 2 official Adidas Soccer School jerseys |
| | Goodies from the Montreal Impact Soccer Club |
Training
The schedule at the Montreal Impact soccer camp has been specifically designed to make learning soccer and improving the campers' level as easy as possible. It has been carefully created with the club's mentality and if the players work hard and seriously, then they will leave the camp with fantastic memories, new friends and as better soccer players.
After a presentation of what they will do during the day, the first training session of the day will take place. These will usually be focused on one or two specific skills or areas of soccer. For example, if it is a more technical session, then a skill like passing, shooting or dribbling will be practised through drills and games and then the skills will be put into use in more match-like situations.
On the afternoon, the campers will have their second training session of the day. As well as encouraging technical progression, the coaches will be trying to improve the players' tactical understanding of the game. To do so, they will be teaching them about positioning, what role they need to play within their team and what it really takes to win a soccer match.
Typical Day
Here is a typical training day :
Excursion
During the stay, a visit to the Impact Montreal stadium is booked.
Transportation is of course included in the program
Arrival
To ensure that everything goes well, trainees will be asked to arrive from 3pm on the Sunday before the camp starts. This gives them time to settle in and gives the organizers time to welcome everyone.
Practical information – transport
Address: 10555, Avenue de Bois-de-Boulogne, Montreal, Quebec, Canada, H4N 1L4
Accessible by public transport: Yes
Accessible by car: Yes
Closest airport: Montréal-Pierre Elliott Trudeau International Airport
Closest train station: Montreal Central Station Gare centrale de Montréal
A transfer from the airport can be organised thanks to a shuttle organised by the camp. This will come at an additional cost and takes under half an hour
About the soccer Camp and the club
The Montreal Impact Soccer Camp is available for players between the ages of nine and fifteen, both boys and girls as well as outfield players and goalkeepers. It was started in 2015 with the intention of giving the kids a week of 100% soccer, which is many young player's dream.
There are two prerequisites for participants. The first is that the players must all have been players at a club for the past three years and secondly, that they can all juggle the ball fifteen times. This is to make sure that all the campers have a suitable soccer level, or it will not be beneficial for them and they will hold the group back.
The camp is directly imbued with Montreal Impact's philosophy. The club was founded in 1992 and competes in the MLS, and in 2015, it became the first ever Canadian and only the second MLS club to qualify for the final of the  CONCACAF Champions League, the most prestigious club tournament in North America, Central America and the Caribbeans.
In 2019, they announced a new manager who is a legend in the footballing world. That man is Thierry Henry, a player who is often considered the best player in the history of the Premier League, which is in turn considered by most to be the best league in the world.
He was an unbelievable player who was capable of everything and anything, and he was an integral part of the Invincibles, the Arsenal team that did not lose a game for a whole season. He also played under some of the best managers in history, namely Arsene Wenger at his prime and Pep Guardiola at Barcelona.
He is a man who knows what success tastes and looks like, and will be raring to impose his vision at Montreal Impact, all throughout the club. He will already have added his considerable knowledge and principles to the philosophy of the club, and having such a man at the head of the club can only be a positive thing.
The camp will benefit from his influence, and the desire to win and improve is the minimum of what will be important at the camp. The camp will operate through learning and understanding the game of soccer as well as practising and training various skills and competences in order to globally improve the camper's soccer level, and it is a tried and tested method!