Dallas FC Soccer Camp for Girls 2021 – Elite Player – Residential – USA
Does your child dream of a holiday filled with soccer and fun activities? This camp is the chance to offer them exactly that, as FC Dallas has worked hard to organise a soccer camp for serious male or female players from ages 11 to 16 who are interested in improving their soccer and having a great vacation !
Is this soccer camps is fully adapted for your child ?
| | |
| --- | --- |
| | Frisco, United States |
| | Girl |
| | 4 days and 3 nights |
| | N/A |
| | |
| --- | --- |
| | All levels |
| | Residential |
| | English |
| | 11 to 16 |
Question ?
Click here for
enquiry form
Location
The camp takes place entirely in the Toyota Soccer Center in Frisco. It is approximately a thirty minute drive from Dallas, and it does get quite warm in the summer, with temperatures averaging in the low to mid thirty degrees centigrade. This is not problematic however, as it helps builds up resistances faster, meaning that the physical work done, if properly hydrated, goes further towards physical development.
Dallas is a wonderful place to visit with many sights that are very worth seeing and activities that are very worth doing. The Dallas Arboretum and Botanical Garden is such an example, with over 65 acres of beautiful garden to explore, and the Dallas Museum of Art is perfect for any cultural buff.
For those who want a historical experience, the Sixth Floor Museum at Dealey Plaza is a very interesting experience, situated exactly where Lee Harvey Oswald assassinated JFK. It follows the life of the president and documents the shooting through films, photographs, displays and more.
Accomodations
The four nights accommodation are at FC Dallas' on site partner hotel, which means that the players will stay within the Toyota Soccer Center. There will be no need for public transport or other means of travel since the fields and all other places the campers will be going will be within walking distance.
Sport Facilities
The sporting facilities at the Toyota Soccer Center are second to none, and are where the professional FC Dallas team plays. There are seventeen soccer fields and all the turf is made of hybrid Bermuda grass variety called Tifway 419. On top of that, sixteen out of the seventeen fields are floodlit and they are all irrigated, and FC Dallas takes great pride in the quality of their pitches.
As well as this, there is a First Aid Station for all injuries that could potentially take place, just in case despite the low probabilities of serious injury. The Victory Center, in the heart of the Toyota Soccer Center, provides entertainment and attractions for anyone who comes, as well as a concession stand.
Catering
All meals are provided and will be carefully thought out in order to maximise physical recovery and development. Nutrition is massively important for any athlete, and it is crucial that all players receive balanced and healthy meals. Make sure to communicate any dietary needs to the camp before going. For non full board campers, lunch and dinner are provided but not breakfast.
Security
Considering the camp takes place entirely in the Toyota Soccer Center, there are no particular security concerns. The only people in the Center should be staff or guests that have been allowed in, so there is no reason to be worried about security.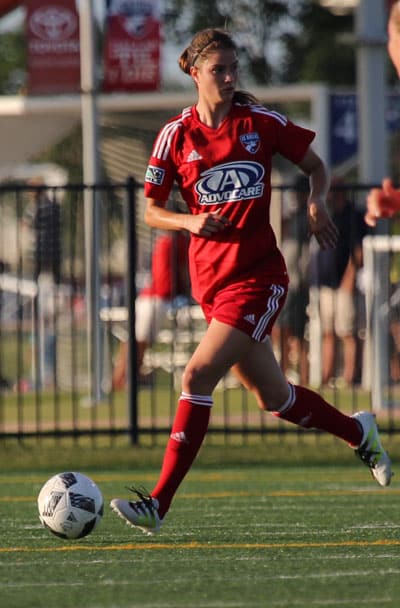 Soccer camp program
The Elite Player Residential Camp is the opportunity for advanced soccer players to put themselves in the cleats of a professional soccer player. For four nights, the campers will stay in the Toyota Stadium partnered hotel and take part in training sessions based on FC Dallas' professional team's methodology and mindset.
Training
The residential camps are available for both boys and girls of all positions. Players will be divided into groups according to age at first, and then again according to ability. This will maximise players' improvement, as ability is more important than age in terms of soccer talent, but age definitely plays a part in terms of experience and physical ability. The camp guarantees a complete soccer technical tune up and tactical development for defenders, midfielders, forwards. Training sessions will feature drills and games to develop particular skills, and this coupled with specific explanations from the coaches will provide results that the players will notice in their; if they work hard enough and listen properly. There will be one on one interaction with the FC Dallas technical coaching staff, which is an unbelievable opportunity for the players to learn important footballing lessons properly. In groups of players, it is likely that some will not completely understand what exercises they are or why they are doing a particular drill. One on one interaction completely eliminates this risk, and few soccer camps can offer such an individualised experience. There will also be detailed player evaluations. Players can understand tactical lessons and what they are supposed to do, but it is more difficult to understand what they are doing wrong. This is logical since they cannot observe themselves and invariably have a skewed perception of their personal play, so a player evaluation can be an essential part of improving. Campers can also expect several  workshops during their time. These will be about different subjects, including tactical play and what their role within their team should be , nutrition and diet, physical fitness sessions, recovery training which includes cool downs and stretches and finally College Soccer Eligibility.
Other Activities
Another feature of the FC Dallas camp that few other soccer camps can offer is a private observation of FC Dallas professional training sessions. Seeing exactly how the professional team trains in front of their eyes can be very beneficial for the young players, and besides that it is the chance to see some of their favourite players play soccer right in front of them, in a more relaxed atmosphere than a match, something that not every soccer fan has the chance to witness.
Typical Day
8.30am: breakfast
9.30am: Technical training
11.30am: End of training + shower
12.30am: Lunch
1.30pm: Free time
3.30pm: Training and matches OR beach/pool
6pm: End of training + shower
7.30pm: Dinner
8.30pm: Evening entertainment OR training
10pm: Lights out
Arrival
All the camps are from Sunday evening to Thursday morning, with campers expected to check in by 4:30 PM on the Sunday and leaving at 11 AM on the Thursday. Arriving outside of these times will probably result in missing out on some of the activities, so make sure to try and stick to the schedule as much as possible. Adresse : 9200 World Cup Way, Frisco, TX 75033, United States
Accessible by public transport: Yes
Accessible by car: Yes
Closest Airports: Dallas/Fort Worth International Airport, Dallas Love Field 
Airport Closest Train Station: Downtown Denton 
transit station
Practical information – transport
If your child is travelling to Dallas airport alone, there are two main options to get to camp. The first is to use a taxi agency which will take approximately half an hour. The other option is to take a tram from the airport to Forest Lane Station and then a bus from there to Tennyson and finally a taxi from Tennyson. This will take longer than a taxi but will be considerably cheaper.
About the soccer Camp and the club
At a time when soccer is rightly becoming more and more popular in the US, the more proactive MLS teams have been trying to develop young players with their own methodologies, whether with soccer camps or through their academies. No team has done this as well as FC Dallas.
The Texan club has possibly the best academy in the nation and has been responsible for kick starting the careers of many MLS players, with current FC Dallas players Reggie Cannon, Jesse Gonzalez, Moises Hernandez, Paxton Pomykal and Brandon Servania all having come through the academy.
The camps they organise are with the intention of maximising the potential of any player who comes to train, with the eventual objective of noticing a future FC Dallas player. The training sessions and philosophy behind the camp are created in the FCD Way and the curriculum has been carefully and rigorously made and perfected to make sure that every player gets the most they can out of the camp.
Ex-campers have gone on to play at State, Regional and Collegiate level and the camp takes place at the Toyota Soccer Centre, where the professional team plays and trains, so you can be guaranteed that the camp is not only serious, but of a very high quality. The FC Dallas Development Academy Pro-Team staff will also be on site to potentially evaluate whether some player could enter the Development Academy Program.
The residential camp, which lasts for four days and nights, has been designed to give the participants a taste of what a week looks like in the life of a FC Dallas player, as they follow the same mentality and their training sessions are designed in the same way and with the same intentions; they are however slightly more advanced !
Other soccer camps for this club
Other soccer camps in this country
USA