Manchester City football camp 2021 for boys – 2 weeks – 14 to 17 years old – language classes – Residential – England
Would you like your child to be train at the home of England's most dominant club in the last decade? Manchester City's football camp participants will be taught by a team of coaches and specialists that have nurtured and developed the talents of players like Kevin De Bruyne, Sergio Aguero and Vincent Kompany, built around the mindset of legendary manager Pep Guardiola ?
Is this football camp is fully adapted for your child ?
Others camps of this club
| | |
| --- | --- |
| | United Kingdom |
| | Boy |
| | 12 days and 12 nights |
| | English |
| | |
| --- | --- |
| | All levels |
| | Residential |
| | English |
| | 14 to 17 |
Question ?
Click here for
enquiry form
Location
The Manchester City football camp takes place in the Etihad Campus. The campus includes the Etihad Stadium. and is mostly owned and run by Manchester City.  It also includes the City Football Academy (CFA) training facility and club world headquarters as well as some undeveloped land adjacent to both facilities. It is in England, and the coaches and specialists as well as other players will all be speaking English.
The people of Manchester are known for their good spiritedness and general friendliness. This is the case for most of the north of England, people are welcoming and helpful. Manchester is a lovely place to visit all year round, with lovely people and many cultural experiences waiting to be had and sights waiting to be seen.
Accomodations
Accommodation takes the form of modern university halls from the University of Salford. It is a twenty-minute private bus ride away from the pitches and the rooms are designed to be functional, comfortable and welcoming.
Each room is en-suite and players will also have access to a swimming pool, sports facilities, communal lounges with Sky TV, games consoles, pool tables, a cinema room and Internet access (Wi-Fi), so there is always fun to be had  and activities to do during the free time.
Kit is washed free of charge, but if there is extra personal washing to do, then there are washing machines available.
Sport Facilities
The infrastructure at the camp is some of the best at any football camp in the world. Daily training is performed on the Academy pitches. You can be assured of their quality since these are the pitches used to develop the young future stars of the Sky Blues.
There is also a full-sized indoor pitch in the center of the CFA's central training facility that provides a unique experience for players. Like a tennis player discovering a surface they have never played on before, it is an experience that most players should have.
The Manchester Institute of Health and Performance (MIHP), frequently used by first team players, will also be explored, showing what a high performing institute for the development of human athletic performance looks like.
Connell College will provide the setting for workshops, off the pitch lessons and lunches. It is a modern educational building that is perfect for teaching the participants important lessons about football, tactics, discipline and teamwork.
Catering
The Manchester City football camp is full board. Breakfast and dinner are served at the residence which is designed to cater to university students.
Lunches are had at the Connell Residence unless there is a weekend excursion, in which case a nutritious packed lunch will be provided.
Security
The residence has security surveilling it twenty-four hours a day. Because it is university accommodation, it is secluded from the rest of Salford, so it is unlikely that there are any security issues.
Even if there are, campus security patrol the premises and are active all day every day so there is no reason to be worried.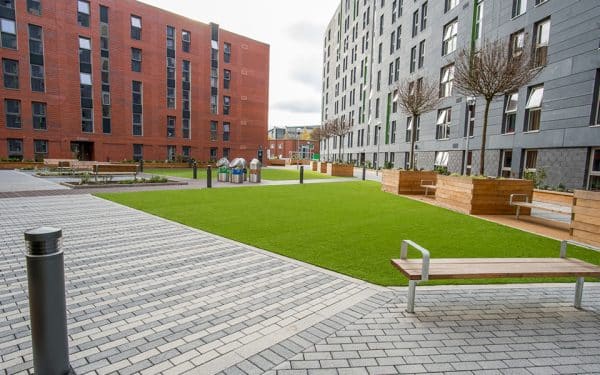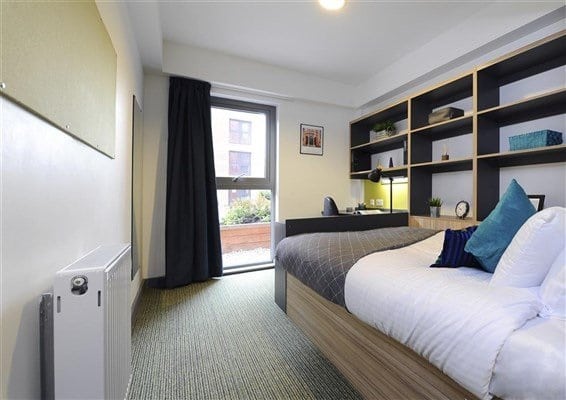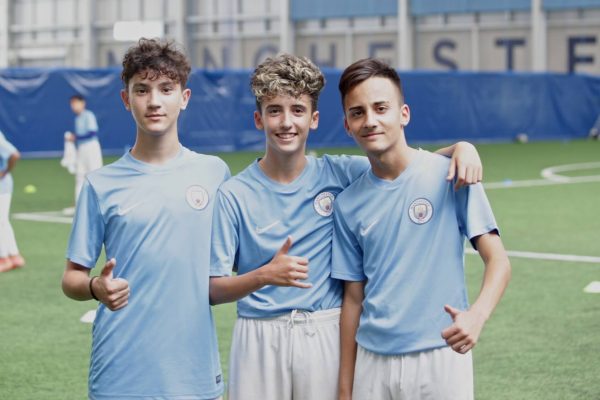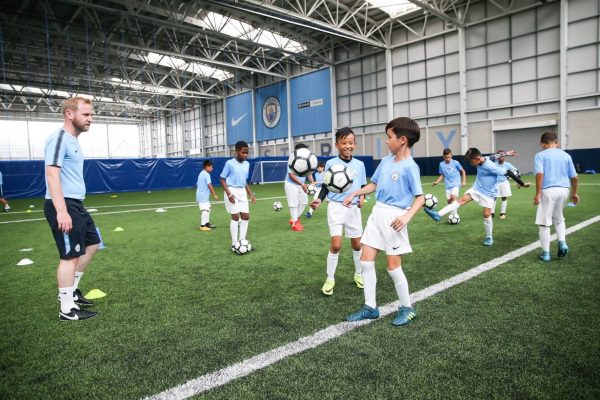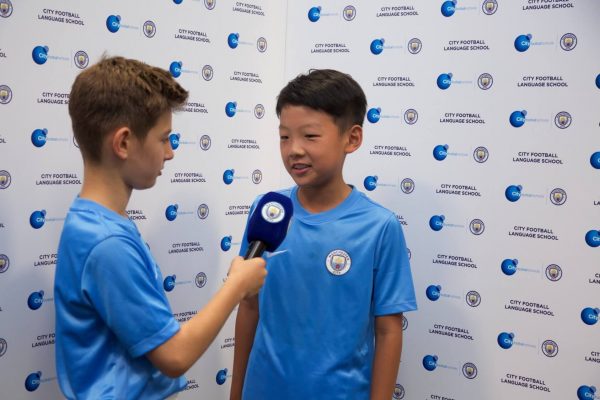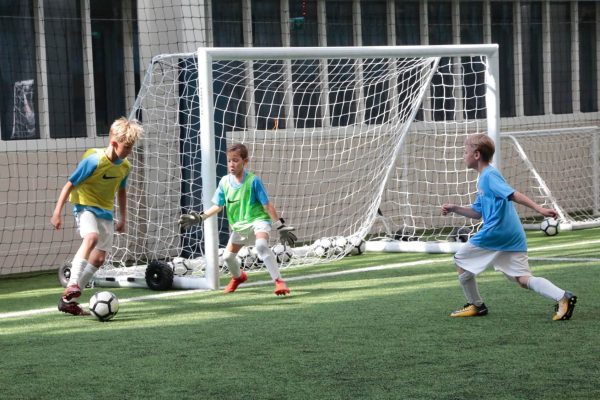 Football camp program
The Language camp, is perfect for players who want to improve their English and their football. The lessons will be pure language lessons, and their quality is confirmed by the British Council and Eaquals, which is an international guarantee.
This is a 2 weeks camp, boys can improve a lot their language and football skills
What is included
| | |
| --- | --- |
| | 30 hours of training & workshop |
| | 30 hours of language classes |
| | Food : Breakfast, lunch and dinner |
| | 12 night at the Salford study residence |
| | Visit of the Ethiad Stadium |
| | City Football Schools kit |
| | Certificate ceremony - Etihad |
Training
Manchester City coaches will approach the training week with an assessment of levels in order to provide the best training for children.
First, they will be separate by level and by age: This camp is reserved for boys from 14 to 17-year-olds. Thew will follow the performance program
The performance program for boys is based around thirty hours of football training alongside competitive, performance based tests and interactive workshops. Personal evaluations allow the boys to visibly improve over the course of the camp.
This programs has 15 hours of training during the 5 days of practice. It's very intense and rigor is necessary.
The camp focuses on the three following aspects: Football Performance, Human Performance and Development of Talent. Participants will not only be taught how to play, but also how to teach themselves and improve on their own.
Work ethic and discipline are the bare minimum a footballer needs, so attitude is taken very seriously at the camp. Guardiola's team always immediately hunt down the ball when they lose it, and this will be expected of the players. They must show their desire to push yourself as much as you can, and that is when tney will improve the most.
Language class
After football, it's time for English classes !
The days will be half language lessons, and half football coaching sessions, so the players can be sure that they will improve considerably on two fronts!
The teachers at the British Study Center are obviously qualified but also passionate about football. This makes it possible to adapt the class with a fun training based on topics around football.
Thus, during the 30 hours of learning, the boys will be able to improve their English skills with exercises on football themes such as journalist analyzes, player interviews or texts on the life of players.
The method is to practice with concrete activities such as press conferences, match comments, interviews with role sharing between player and journalists. It's fun but also very concrete for children to stay focused and learn English more easily.
Regarding the program, when they arrive they have a language placement test.
Each player will receive personal feedback before each lesson to advise them and help them to develop their skills. It should be noted that e-learning material will be provided before the arrival of the children so that they can learn the basics of English / football before arriving.
After the course, linguistic summaries will be provided for boys and parents. E-learning will still be available a few weeks after the camp too!
Excursion
During the stay, a visit to the impressive Etihad stadium is planned. The boys will explore these very high quality and new generation facilities.
Transportation is included in the program
Arrival
Participants will need to arrive in Manchester before 4PM on a Sunday to start the five night course.
If you can't drop your child off at the camp, a return airport transfer can be organised for 110 $. This can be done after you book the camp, and you will receive this information once you have booked.
To guarantee that there is a named person to meet unaccompanied minors, there is a charge of 130 $ for unaccompanied minors arriving at the airport.
Departure
The end of the camp is Friday afternoon around 4 p.m. after the graduation ceremony.
The ceremony is at the Etihad Stadium in Manchester. It is here therefore that the children will have to be recovered.
Please note that in the same way as for arrival, it is possible to organize the transfer to the airport for 100 €
Practical information – transport
The address to go to is the following: Peel Park Quarter, Campus Living Villages, University Road, Salford M5 4NJ.
It is accessible by car and the international Manchester Airport is nearby at around 25 minutes.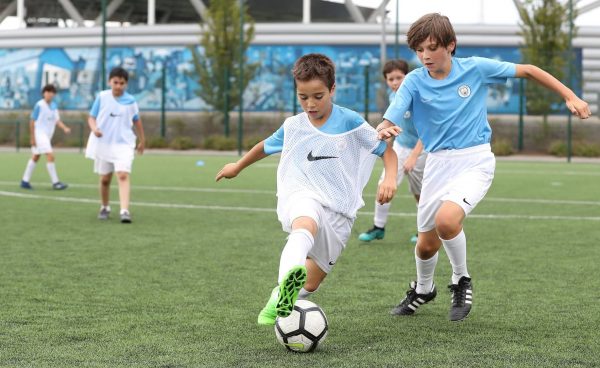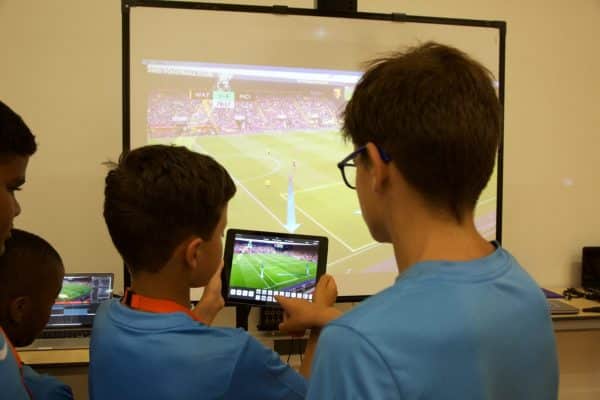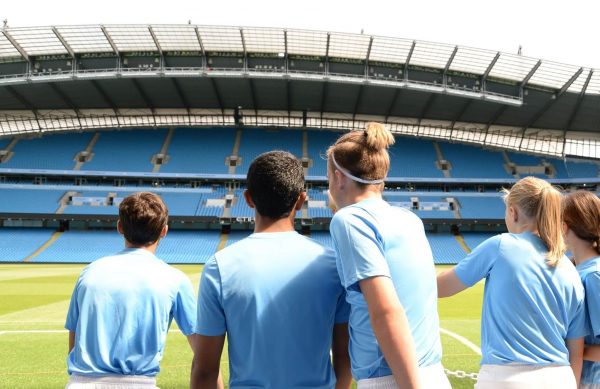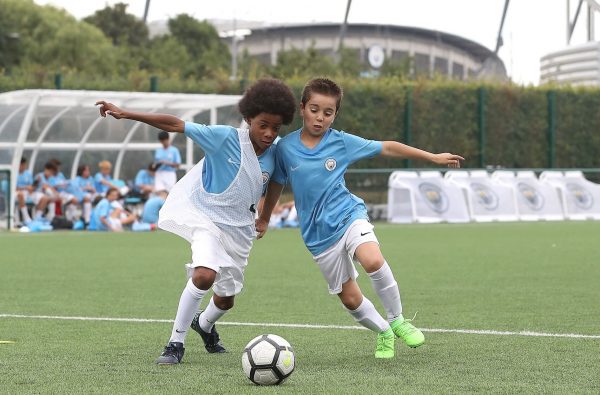 About the football Camp and the club
In England, football is more than just a game and it is full of passion from the bright lights of the Premier League to the muddy, waterlogged pitches of Sunday football. For the city of Manchester, this is particularly true as it hosts two of the best teams in England. Although it has historically been the red of Manchester United, the city has been gradually been painted blue in the last eight years, since City won their first title.
City have stood apart in recent years from other English teams thanks to their flair. They are not only very dominant, they also play attractive football, and the team is very clearly coached with an emphasis on passing, attacking fluidity and movement, both on and off the ball. This is something that will be explored further in the camp.
The player who represents City's attacking prowess the best is Kevin De Bruyne. The Belgian playmaker exudes class and has been instrumental to City's success. He combines exceptional vision with precise execution and on his day, there is no better midfielder. Despite being a midfielder, he has scored important goals against Chelsea, Arsenal, United, PSG and many more teams, proving that he will perform in big games.
A large reason for City and De Bruyne's success is the mastermind behind it, Pep Guardiola. Many think of him as the best manager of all time, and looking at his trophy cabinet and past teams, it is not difficult. He has achieved total domination in Spain and Germany with Barcelona and Bayern Munich, and it seems he's intent on doing the same in England.
Guardiola's teams succeed because they dominate possession and provide the perfect blank canvas for the creative forward players can artfully design their attacks. With the skill they have in their ranks, it is almost inevitable to be broken down by this team and having the ball usually does not provide much respite. He orders his teams to press high and this often leads to goals.
Guardiola's tactical understanding of the game is incredible, and his intelligence is clear any time he speaks. This camp is the chance to get a deeper look into these tactics that make Guardiola teams so successful, as participants will be taught his authentic way of playing and understanding football.
This camp is open both in the spring and the summer. Summers are often sunny and warm, but it tends to rain often in the spring. England is built for this kind of weather however, and rainy conditions shape player's desire, technique and passion. As well as this, the camp even has a full sized indoor pitch.
Other football camps for this club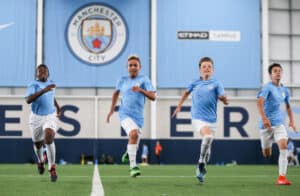 Manchester City
Other football camps in this country
England
Most booked football camps