Did you know that most soccer camps are also organised for girls ? Did you know that there are several exceptional soccer camps that are exclusively dedicated to girls ? Did you know it is possible to put yourself in the cleats of the best female soccer stars like Marta, Amandine Henri, Dzsenifer Marozsan and Ada Hederberg ? Finalyy, did you know that these camps are organised by some of the greatest clubs in the world such as Real Madrid and Liverpool FC ?  
Looking for Soccer, the go-to website to book the best soccer camps, has compiled a selection of the best soccer camps of 2021 for girls. These camps have provided girls from all over the world with incredible memories, so why not your daughter ?
Keep reading to find out more about the 5 best soccer camps for girls selected by Looking for Soccer.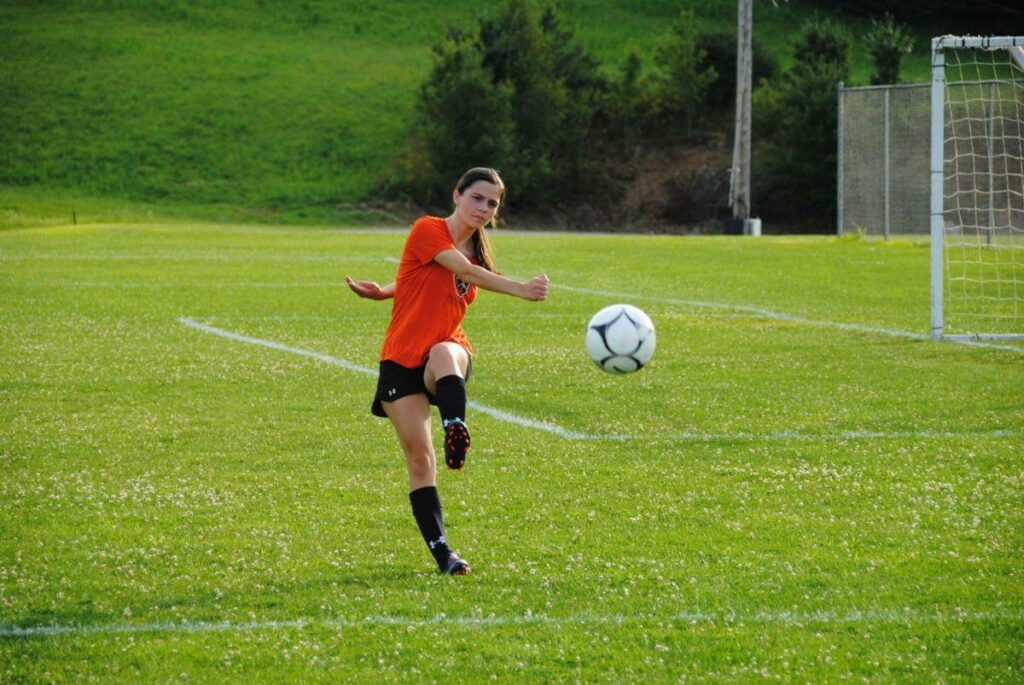 Nowadays, a considerable number of professional clubs organise soccer camps but unfortunately, these are not all open to girls. The teams from Looking for Soccer have created a list of the five best soccer camps open to girls all while describing what makes them so exceptional.
Without a doubt, Real Madrid is one of the biggest clubs in the world, with many that would go as far to say the biggest. All children dream of playing for the Spanish capital's best club. Luckily, Real Madrid is helping young players achieve this dream thanks to their one week soccer camps. They are organised with everyone in mind, and girls from all over the club journey to Madrid to participate in them.
What makes this soccer camp exceptional ?
The training sessions take place in the official training center of the club, meaning that the campers will play on the same fields as the stars of Real Madrid
Two camp options, "Regular" or "High Performance" to adapt to the needs and desires of all participants
The camp includes a visit to the legendary Santiago Bernabéu stadium
It is possible to combine soccer with language classes (English and Spanish) for double learning
Interested in this soccer camp for your daughter ? Find out more about the Real Madrid soccer camp for girls
Liverpool FC's soccer camp for girls
Premier League champions in 2020, Champions League winners in 2019, Liverpool is perhaps the best club in the world at the moment ! It is a club that mesmerises children and adults alike with its attacking and attractive style of soccer.
To help young soccer players to taste this dream, the club has developed several soccer camps adapted to needs, namely adapted to girls. As such, Liverpool organises a soccer camp totally dedicated to girls between the ages of 12 and 17.
What makes this soccer camp exceptional ?
One of few clubs to offer several camps exclusively for girls
A number of formats are available, from 6 to 12 days
2 training sessions per day for an intense and complete program
Several excursions including the legendary Anfield Stadium and a trip to the Blackpool Theme Park
A kit complete with shirt, shorts and socks is given to the girls to prepare like professionals
Interested in this soccer camp for your daughter ? Find out more by contacting us !
FC Barcelona's soccer camp for girls
Barcelona, mythical city, legendary club, fabled stadium, world-class players. It is a club that leaves no one indifferent to it, a true mark of impact. It is guaranteed to be a dream to spend time playing soccer at this club, one that Barcelona makes real. Indeed, it is one of the most complete soccer camps and it is available for girls between the ages of 11 and 16.
What makes this soccer camp exceptional ?
An ultra complete camp of 14 days to work on footballing ability and to evolve in an unforgettable environment
20 training sessions at La Masia, the famous FC Barcelona Academy and training center that helped shape today's stars like Ansu Fati or Lionel Messi as well as yesterday's stars such as Xavi or Andres Iniesta
Outings that are sure to create unforgettable memories, like the one to the Camp Nou or a day at the Port Aventura theme park.
The camps also offer packs dedicated to the parents or siblings of the campers so that you can accompany your daughter all throughout the trip
Interested in this soccer camp for your daughter ? Find out more about the FC Barcelona soccer camp for girls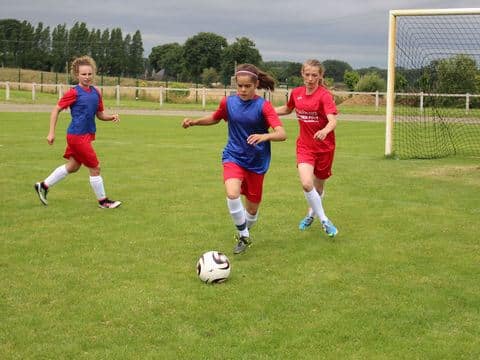 Montreal Impact is a club on the up. Testament to that fact is the appointment of Arsenal legend Thierry Henry as manager of the club. He is getting himself an important reputation across North America, a continent where female soccer is perhaps the most developed.
Indeed, the United States female soccer team has the best squad in the world, confirmed by their recent victory in the 2019 World Cup held in France.
Led by stars such as Alex Morgan and Megan Rapinoe, the soccer mentality in North America has always been heavily developed. It is therefore logical that Montreal Impact organises a soccer camp adapted to girls.
What makes this soccer camp exceptional ?
The IMFC soccer camps are orchestrated by a team carefully selected for their quality and understanding of the club philosophy: each level has its own learning methods to guarantee progress for everyone
Several outings are planned with namely a visit of the Saputo Stadium, a visit of the Nutrilait training center and the IMFC shop
A complete kit will be given to every participant: 2 shirts, 2 pairs of shorts, 2 pairs of socks, 1 sweater, 1 wash bag and 1 small bag
Thanks to its location in French Canada, the camp is totally bilingual with English and French
Interested in this soccer camp for your daughter ? Find out more about the Club Montreal soccer camp for girls  
Ready to offer your daughter the soccer camp of her dreams ?
Any parent will tell you that they always want the best for their kids, including holidays.
Being a dedicated soccer fan can be difficult for girls as the sport today is still dominated by men. This starting to change thankfully and the teams from Looking for Soccer want to assist you in finding the best possible soccer camp for your daughter, so that she can have an absolutely incredible vacation
If you have any questions about any of the camps in this list or you are eyeing up a camp that is not on the list, do not hesitate to contact us so that we can help you find a camp that is 100% suited to your daughter's needs.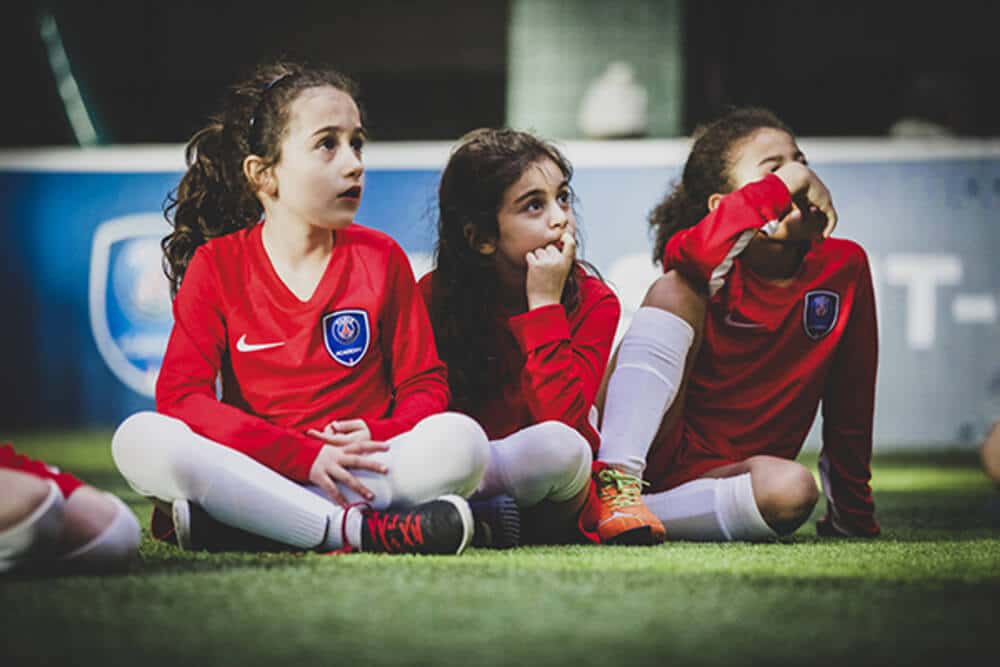 Does your daughter prefer another club or wants to wear her favourite player's kit ?
The list is limited to 5 camps but know that there are many other clubs that offer soccer camps for girls. If your daughter would rather wear Neymar or Mbappe's colours, then that is also possible thanks to PSG's camp.
If she prefers the light blue that Sergio Aguero and Kevin de Bruyne wear, then that is equally possible thanks to Manchester City's soccer camps. We invite you to explore our page dedicated to camps for girls, and we are certain you will find the camp for your daughter !
Is your son also interested in a soccer camp ?
You are looking for a soccer camp for your daughter, but you may also be noticing that it would also be your son's dream. To avoid any jealousy, you can find a selection of the best soccer camps in the world on our website.
Do not hesitate to contact us for help in organising your children's camp experience, potentially even taking them to the same camp ? Indeed, numerous clubs offer camps adapted to boys and girls. It is the chance for them to spend their holidays in a similar context.