Valencia CF Football Camp 2021 – Day camp – Spain
Does your child dream of spending a week centred around football at one of Spain's best clubs' training ground? Do you wish for your child to improve their football and have the holiday of a lifetime, all the while learning valuable lessons about life, respect, team work and even society? If so, the FC Valencia Summer Camp provides all of this and more !
Is this football camp is fully adapted for your child ?
| | |
| --- | --- |
| | Spain |
| | Boy, Girl |
| | 6 days and  nights |
| | N/A |
| | |
| --- | --- |
| | All levels |
| | Residential |
| | English, Spanish |
| | 6 to 16 |
Question ?
Click here for
enquiry form
Location
The camp takes place at the club's training centre in Valencia, where the first team and the academy teams train as well.
Summers in Valencia tend to be dry and hot due to the Mediterranean climate. Although there are risks linked to the heat, they are in fact ideal conditions to train in because they help build up physical resistances, meaning that players will improve their fitness and stamina at a quicker rate.  Coaches and camp staff will make sure that the players hydrate themselves properly.
The Valencian region has a very wide range of sights and activities that attract hundreds of thousands of tourists a year. One of its main attractions are the golden beaches and few can resist the warm water and inviting sand.
An unmissable attraction within Valencia is the City of the Arts and Sciences. It is made up of huge modern structures that will amaze you, with many translucent pools giving the whole place a unique feel. Inside, the main things to see are L'Hemisfèric which is a planetarium, IMAX Cinema, and the breathtaking L'Umbracle, a botanical collection of plant species native to Valencia.
Accomodations
The Residential Camp will include a stay at a hotel for the duration of the camp as well as the evening meal.
Sport Facilities
As previously mentioned, the Cuidad Deportiva de Paterna, where the camp takes place, is the home of FC Valencia. Both Valencia B and their women's team play their home games at Estadio Antonio Puchades which is in the training centre.
As well as the 3000 seat stadium, there are five full sized grass fields, one full sized artificial turf field and seven small artificial turf fields. This gives more than enough space for all sorts of training and for all positions. The sporting facilities are carefully looked after, and it will be an authentic taste of what professional facilities are like for high quality football players.
It is not just football fields on site, with Jacuzzi rooms, saunas, swimming pools, a massive gym and even a modern rehabilitation centre. It has been designed to be able to host every level of FC Valencia and therefore has everything a football player could possibly hope for.
Catering
Diet is a crucial part of becoming a quality football player or any other type of athlete, and that has been taken onboard by the cooks. They strive to offer quality food that is not just tasty but will provide the young athletes with everything they need to develop physically, and also to recover from the intensity of the football.
It is worth mentioning that in Spain, meal times tend to be later than in other places. This means that lunch will only be from 2 PM onwards. A morning and afternoon snack as well as lunch will be provided for all campers.
Security
Almost all of the camp takes place within the Ciudad Deportiva de Paterna which means that everything is within walking distance, eliminating the need for public transport. Only authorised people will be allowed into the centre, and the staff will always be supervising the campers, so there should be no security concerns whatsoever.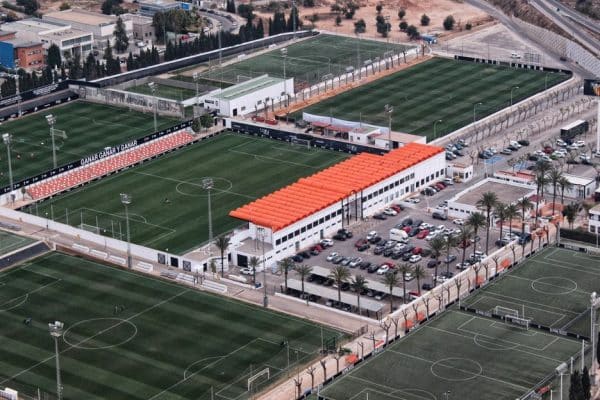 Football camp program
This half board football camp is perfect for boys and girls who want to enjoy the summer playing football and progressing while enjoying a beautiful region and a lot of extra-football activities.
What is included
| | |
| --- | --- |
| | VCF Academy coaches organise and conduct all training sessions and games |
| | Various activities ranging from other sports such as swimming to educational activities like video sessions |
| | Lunch and dinner included |
| | A visit to the Liga's oldest stadium, la Mestalla |
| | Two Puma Valencia CF kits: Shirt, shorts and socks. |
| | Gifts given to each camper |
| | Individual diplomas |
Training
The camp schedule was specifically designed in order to maximise learning about football and life in general and to maximise the campers' enjoyment. The players will create some lifelong memories and will also improve their football level and their social skills and understanding, considering how many international players flock to the Valencia camp. There will usually be two training sessions every day, which will be either technical or tactical. Technical sessions focus on improving a particular skill, such as shooting, passing or dribbling. This will be done through drills and games and the coaches' instruction which will then be reinforced in match like situations. This is a very simple technique for good reason: it works the best. Tactical sessions are less simple and depend more on the players. Coaches will be trying to teach them about formations, roles that each player should fill, what it takes to really win a game and more. It is a lot more simple to train technical skills because they do not require the use of the brain, whereas tactics need to be understood to be properly implemented. It is tactically that the improvement can be the greatest, and can often transform a good player into a fantastic player.
Other Activities
During the week, the children will do many activities besides football. These are multi-sport and socio-educational activities with our instructors: swimming, games, conferences, video sessions, etc.
Typical Day
Here is a typical training day :
Excursion
During the stay, a visit to the impressive Mestalla Stadium is on the program. The children will discover this new generation of high quality facilities.
Arrival
Participants should arrive at the training center every day between 8.30am and 9am
Departure
Participants will have to leave the training center every day at 8pm and on Saturday at 1.30pm.
Practical information – transport
About the football Camp and the club
The FC Valencia football camps are the chance for up to 200 participants of 6 to 16 years of age to practice and improve their football level within the Ciudad Deportiva facility in Paterna, the state of the art training complex home to the Spanish club. It combines playing and learning about football with an emphasis on values and principles that are essential to the club such as respect and teamwork while being an enjoyable and unforgettable holiday.
FC Valencia are one of Spain's best teams, consistently finishing in the top half of the Spain's first division and winning various titles along the way, such as La Liga six times, the Copa del Rey eight times and twice reaching the final of the Champions League.
Their academy has also produced several quality players, that have either stayed at the club or moved on to success elsewhere. Possibly the best player to be formed and developed at the club is David Silva. The silky Spanish midfielder has achieved almost everything there is to achieve in football, and he is done it with class and elegance.
He has been an integral part of two of the greatest sides in history, Spain's national team and Manchester City. With the Spanish national team, he won the Euros in 2008, the World Cup in 2010 and the Euros again in 2012 and he won several Premier Leagues with Manchester City.
Over those four years, Spain were by far the best team in the world, thanks to their defensive resolve, their lethal finishing and most importantly, the fluidity in their team. Silva was instrumental in his influence, transforming defence into attack seamlessly, often popping up with crucial goals and assists.
The story is similar with Manchester City, where his partnership with Yaya Toure and his understanding with Sergio Aguero led to his side being unstoppable. As well as this, he has been thoroughly unproblematic throughout his career and his grace and elegance are obvious both on and off the pitch. He is an absolute credit to his boyhood club FC Valencia.
Valencia is a club that always valued its youth and the players going through the Academy. Ferran Torres, Jose Gayà and Carlos Soler are all players that have come through the club's system and are now part of the starting eleven.
The club has developed a philosophy that they believe creates quality players, and it is this philosophy that the football camp is based on. The training sessions are run by FC Valencia coaches that are experts in their field and have been picked thanks to their understanding of Valencia's vision.
Other football camps for this club
Other football camps in this country
Spain
Most booked football camps