AC Milan Football Camp – Day Camp – Rosas – Spain
THE FOOTBALL CAMP IS CANCELED FOR THE YEAR 2021 AND IS POSTPONED TO SUMMER 2022.
Welcome to the AC Milan football camp in Rosas, Spain on half board basis. If you want your child to learn with a methodology from one of the prestigious football teams you have come to the right place.
This course is perfect for all boys and girls who want to progress and have fun in a friendly and fun atmosphere in a seaside resort on the Costa Brava. Ideal conditions guaranteed!
Find on this page all the necessary information about this day camp version.
Is this football camp is fully adapted for your child ?
| | |
| --- | --- |
| | Roses, Spain |
| | Boy, Girl |
| | 9 days and  nights |
| | N/A |
| | |
| --- | --- |
| | All levels |
| | Day Camp |
| | French, English, Spanish, Italian |
| | 7 to 17 |
Question ?
Click here for
enquiry form
Location
The Roses / Empuria Brava camp is less than thirty kilometres away from the French border and 160 kilometres from Barcelona. Roses is a commune set in the unique Costa Brava and it is alive with culture and activities.
For those who enjoy hiking and mountain biking, the Aiguamolls nature reserve is a wonderful, natural parkland and contains an animal sanctuary stretching up from the coast to the Pyrenees Mountains.
There is also a very good water park in the area and there is also skydiving, sailing, speedboats and horserising available to do easily, so it is perfect for those looking for an active beach holiday.
Sport Facilities
The players will train at the Figueiras stadium which has a quality grass field.
Transportation between the hotel and the field is provided in the residential program. For the day camp program, parents will have to bring their children directly to the stadium.
Catering
All the catering offered during the course is reviewed by a nutritionist to ensure the meals are well adapted and balanced for the young players.
Within the framework of the full boarding in boarding school, all meals are included: breakfast, lunch, dinner and also morning and afternoon snacks.
For the day camp program, lunch and snacks are included.
Security
All staff are trained in childcare. The AC Milan training courses have been held every year for the past 15 years, so the teams have been supervising children with great professionalism and experience for a long time.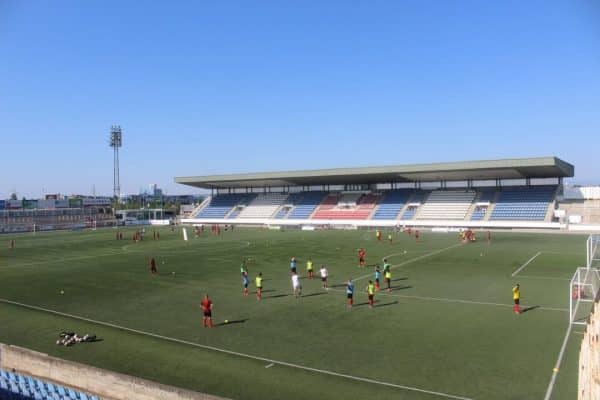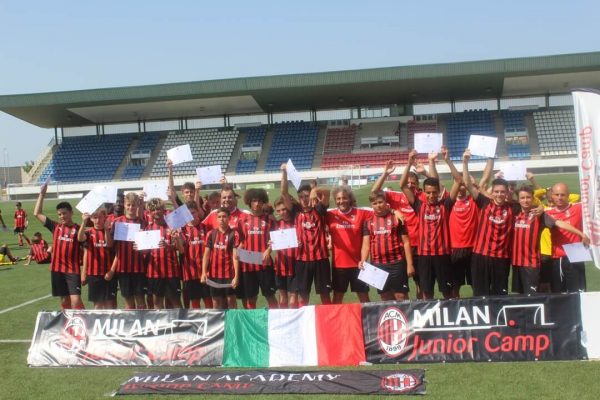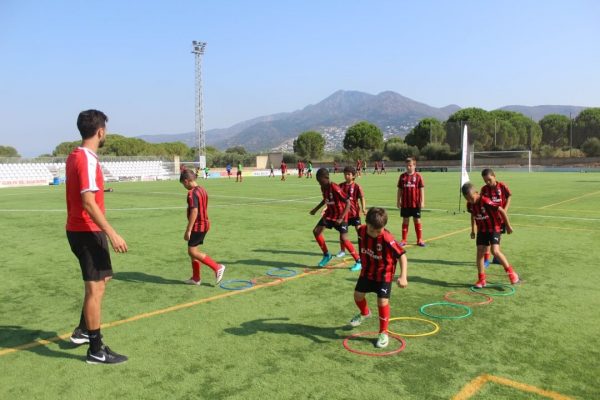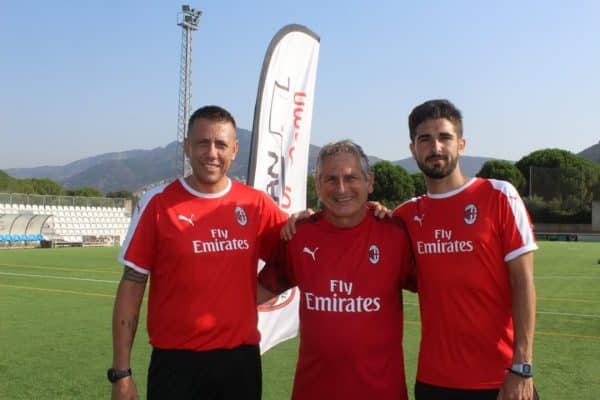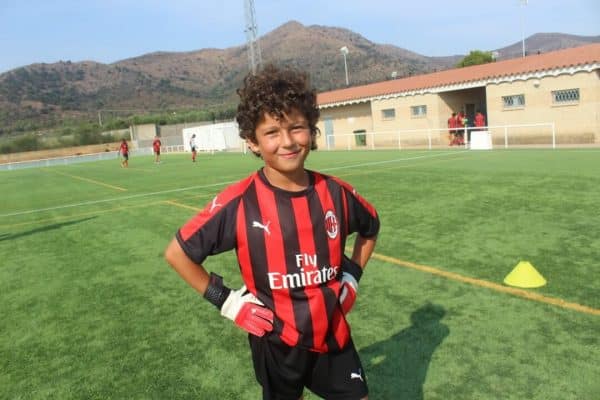 Football camp program
THE FOOTBALL CAMP IS CANCELED FOR THE YEAR 2021 AND IS POSTPONED TO SUMMER 2022.
This full board football camp of AC Milan has one objective: to offer a fun and pleasant vacation around football for all boys and girls who wish to perfect their football in a friendly and enjoyable environment.
This football camp is also available as a full board program :  AC Milan residential camp in Roses
What is included
| | |
| --- | --- |
| | 10 days of training |
| | Lunch and snack |
| | Tactical workshop by coaches |
| | Match against local teams |
| | AC Milan Puma kit : 3 shirts, 2 shorts, 2 pairs of socks, 1 sports bag |
| | Swimming in the sea |
Training
For this football camp, the AC Milan coaches have designed a training schedule adapted to the levels of all the players and all ages. Groups will be made on the first day so that the campers will train according to their position: attacker, midfielder, defender, goalkeeper.
Individual and group training :
Every day, training drills will be organised to work on the different aspects of the game: dribbling, passing, feints, shooting, heading, technical work or tackling…
For the tactical side of things, several exercises will be set up to explain various tactics to the boys and girls, which they will then be able to practise in matchlike situations.
Each child will benefit from individual advice on the field from the coaches but also off it,  with fake press conferences to feel like a pro!
Specific sessions for goalkeepers are organised, with a specialised goalkeeper coach.
Matches and oppositions :
Every day the training sessions will end with a football match.
There will also be a team tournament and individual competitions.
Finally, to maximise learning and enjoyment, matches against local teams with different styles of play are on the schedule.
Typical Day
During this football camp, two training sessions are planned per day. The first will be at around 9:15 AM and the second at 4:15 PM.
The camp makes sure that there will be enough time for the campers to recover and enjoy the time with their friends. After the morning session, the campers will either enjoy the beach or the swimming pool.
Every evening, after dinner, fun group activities are organized by the animators.
You will find below an example of a typical day which is subject to change :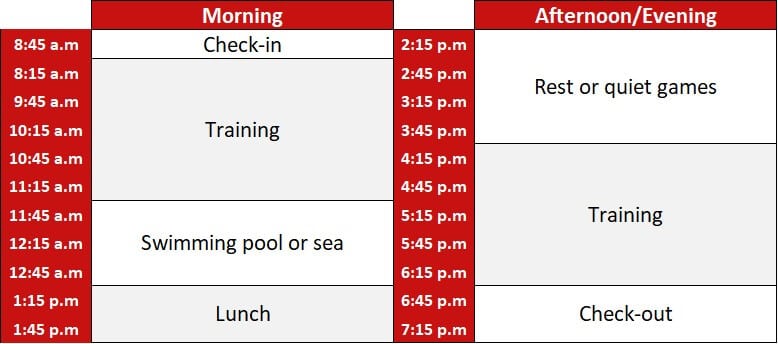 Supervision
At this camp, all the supervisors and animators are BAFA graduates. There is one supervisor for every 12 children.
The coaches have UEFA B diplomas and many years of experience. There is one coach for every 14 children.
Arrival
The football camp starts on Sunday, July 11th and arrival information will be provided a few weeks before the camp starts.
In this day camp version, parents must bring their children to the camp every morning around 8.30 a.m.
Departure
This football camp ends on Monday 19th July. Parents will be able to pick up their children directly at the Figueiras stadium.
In this day camp version, parents must pick up their children at the camp every evening around 6:30 p.m.
Practical information – transport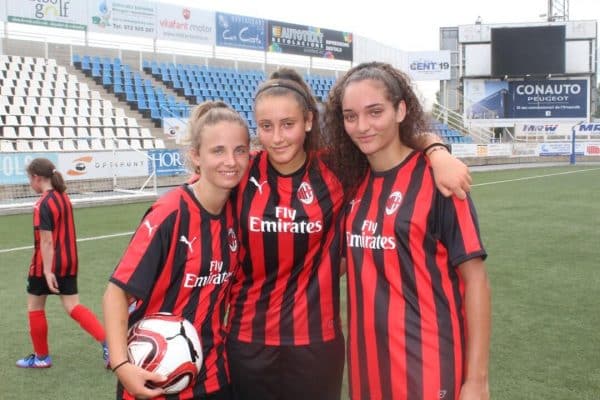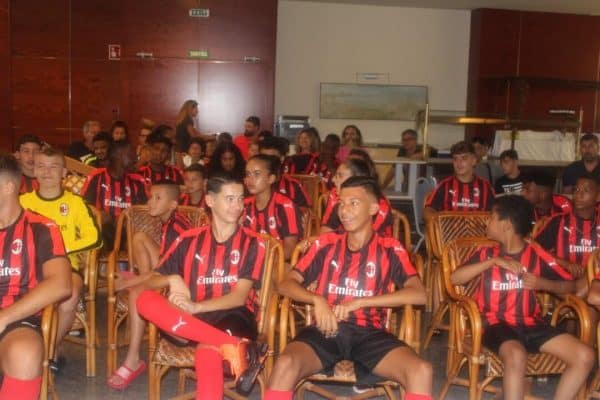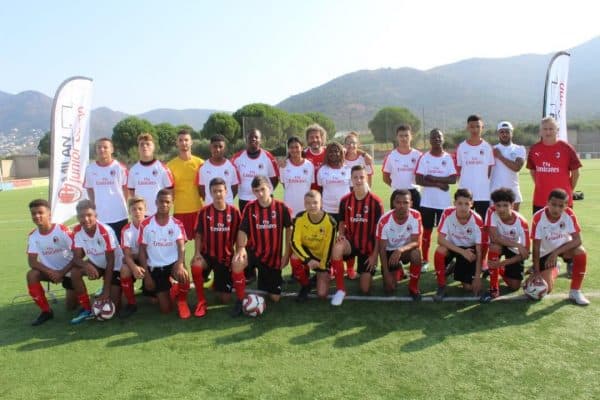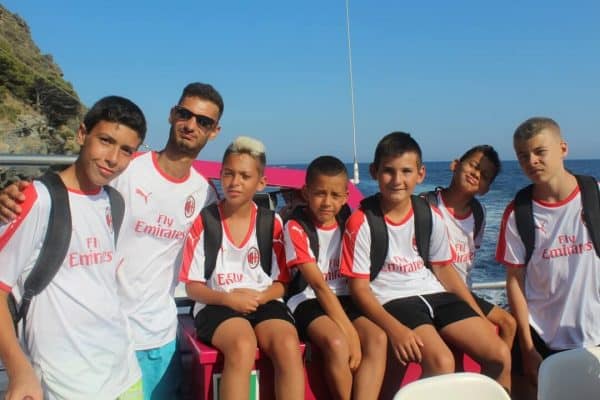 About the football Camp and the club
The AC Milan summer camps were set up in 2006 with a simple idea: to provide enjoyable holidays for young football players and to help them improve and learn more about the sport they love. Over the last fifteen years, the methodology has been developed and the camps are now a guarantee of quality and professionalism.
The staff are highly qualified and highly competent. They not only know how to coach football in an interactive and easy to follow way but they are also there to ensure that all the campers enjoy themselves, feel included and learn important things about respect, friendship and life in general.
The coaches understand the AC Milan philosophy and try to implement the values and principles that are so important to the Italian club. AC Milan has been a mainstay of Italian and international football, winning 18 FIFA and UEFA trophies, which is the fourth highest of any club in the world, as well as winning the second most Serie A titles and only spending two seasons outside of the top division since 1929.
In Italy, football is taken very, very seriously and it is a lot more than just a sport in many places. Respect is also crucial, which is why AC Milan has retired two shirt numbers: the 3 for Paolo Maldini and the 6 for Franco Baresi. Both players poured blood, sweat and tears into the club and Milan has shown them so much love in return out of respect not just for the players, but also for the sport of football .
Other football camps for this club
Other football camps in this country
Spain
Most booked football camps